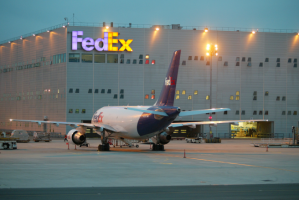 The completion of the integration of TNT's air network sees FedEx Express reinforcing the role of Paris-Charles de Gaulle Airport as its main European hub, with the creation of 1,000 jobs this year.
The integration saw TNT's hub at Liège Airport, in Belgium, relegated to secondary or regional status, resulting in heavy job losses.
Speaking at an Investor Day at the end of last month, Karen Reddington, president, FedEx Express Europe, revealed that the air network integration will bring benefits of between $75m to $100m by fiscal year 2025.
"When you think about this integration, we've brought together the two air networks of these companies and created one that is more extensive than either of them as standalone. We now serve almost 70 flight points. We do that at jet speed, with 10% more capacity but with 13% fewer flights per week. Because we've got a more extensive network, we've been able to improve our next day coverage and our new delivery coverage."
Commenting on the significant rise in the workforce at Paris-CDG, a spokesperson for FedEx said: "These (new) jobs are operational positions, mainly as sorting and ramp agents. We've filled many of the positions and the recruitment campaign is still underway.
"As our main hub in Europe, CDG has seen an increase in activity in the past years. These jobs are part of continued investments we are making in our operations to enhance our operational performance, service reliability, and improve the working environment for our team members. Approximately 4,000 team members are currently working at CDG."
The spokesperson underlined that since 2016, FedEx had made significant investments at its CDG hub, including an upgrade in sorting capabilities.
"In 2016, we announced a €200m commitment, followed in 2020 by a €20m expansion to increase the hub's capacity. The CDG hub now has a new state-of-the-art, automated sortation system, making it one of the most modern hubs in the world.
Some 1,500 tons of freight are handled every day at FedEx's CDG hub. "Since 2021 we have increased our sorting capacity for heavy freight and parcels containing dangerous goods by 55%, while box and document sorting capacity has been increased by 35%."
Last month, FedEx Express launched a new flight route between Asia and Europe to provide improved connectivity and service reliability for customers in north Asia, including in China and Japan, and increased inbound capacity from Europe for Singapore businesses.
The flight connects China's capital, Beijing, to the Paris hub, with 10 connections per week via Osaka's Kansai Airport, in Japan. It aims to benefit businesses as the cut-off time for same day outbound shipments from Beijing to Europe has been extended.