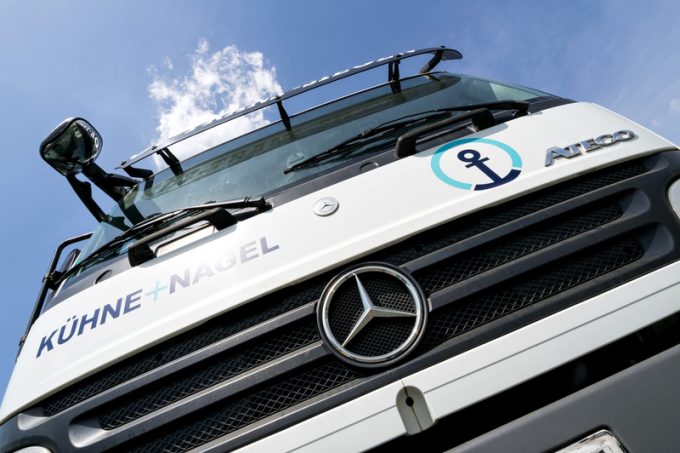 Kuehne + Nagel gave itself a pat on the back today for choosing the "correct path" through Covid-19, resulting in first-quarter turnover of Sfr6bn ($6.5bn) – up 22% year on year. Ebit rose 134% to Sfr431m.
Whether K+N in fact had much choice of strategies is a moot point, but there is no denying it profited from both high volumes and rates in air and sea.
Sea business saw turnover grow nearly 40%, to Sfr2.39bn, with gross profit up 40%, to Sfr482m, resulting in ebit of Sfr206m, up more than 160%.
The forwarder noted difficulties in the market, saying it had delivered an "intensified service" as a result, to "meet exceedingly high customer demands particularly in the US, in an environment of limited container capacities, reduced terminal productivity and increasing demand".
Volumes grew marginally, up 2% year on year to 1.1m teu. While there was a decline in recyclables demand, the consumer goods sector grew. K+N added that a new feature in its Seaexplorer platform was "particularly helpful" in providing transparency in a disrupted market.
In its air business too, it would have been astonishing if K+N hadn't made money. Volumes rose 16% year on year to 433,000 tonnes in the first quarter, while strong yields provided a net turnover of Sfr1.7bn, up 51% and ebit of Sfr163m, up about 130%.
Road was less stellar, with turnover remaining flat at Sfr870m, although ebit rose 41%, to Sfr24m. K+N said Q1 was characterised by "a significant increase in consignment numbers and a return of European national transport capacities to prior year levels. After a weak start, UK transport demand recorded a noticeable recovery throughout the remainder of the quarter".
But K+N's contract logistics business saw declines. While the forwarder said contract logistics had grown in line with the market, at 4%, the sale of part of its UK business pushed turnover down more than 9%. However, ebit rose 123% to Sfr38m. K+N said that growth had been driven by pharma and e-commerce.
In March, it added, the unit entered into a strategic partnership with Jointown, the largest non-state pharmaceutical distributor in China.
K+N noted that last year had seen good demand in several sectors, including pharma, healthcare, hi-tech and e-commerce – while others, such as automotive, aviation and aerospace, saw significant declines. But the past two quarters saw continued growth in volumes to both Europe and North America from Asia, while reduced capacity led to "a steep increase in freight rates".
But, it acknowledged: "The future impact of Covid-19 on business depends on the further development of the pandemic and its effects on global trade … predictions remain difficult."
One bright spot could be vaccines: K+N is supporting the storage and distribution of the Moderna vaccine outside the US, via air and road.
CEO Detlef Trefzger said: "Exactly one year ago, when we were still at the beginning of the pandemic, we decided to commit to our proven strategy. Upon reflection, we are assured that we chose the correct path. In the first quarter of 2021, we were well-prepared to serve our customers' robust demand for high-quality logistics services, despite the tense market environment.
"We expect this environment to remain challenging for the remainder of another atypical year."
You can read the full results here.