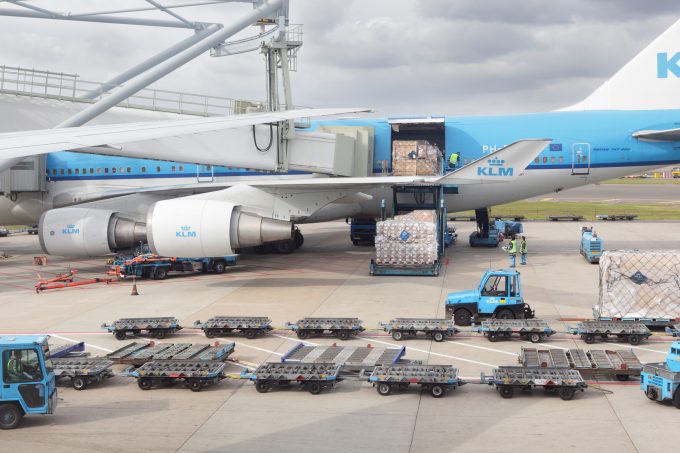 The management and strategy of KLM Cargo is accused of lacking "vision and bravado", and have come under scrutiny in the Dutch parliament.
As Bram Gräber, chief of AF-KLM Cargo prepares to step down, the Dutch air cargo industry is urging the carrier to put a greater focus on freight.
Last month, Socialist MP Eric Smaling put questions to parliament, the Dutch Shippers' Council (EVO) and the pilots' association, VNV, on the future of freight at Schiphol, and the role KLM and Martinair should be playing in the Dutch air cargo industry.
Yesterday the Dutch minister of transport responded, backing AF-KLM's strategy and saying its freighter feet reduction was in line with overcapacity and a good long term strategy.
But Dutch industry support for the carrier is likely to hinge on whoever is appointed to take over from Mr Gräber. There are, apparently, at least two names in the frame for the job, according to local sources.
One source said that Sjoerd van Loon, CEO of IJS Global, was being consulted over who should be appointed. "He is very well-respected in the Dutch air cargo industry. Although he would be a very good candidate to clean up the company too."
IJS Global was recently bought by Gefco, which could allow Mr van Loon to consider his options.
"It is striking the number of leaders we have had at KLM Cargo," added the source. "It used to be that the head of cargo was someone on the way up – now it is someone on the way out."
Mattijs ten Brink went on to manage Transavia, Erik Varwijk became KLM's managing director, while Michael Wisbrun is chairman of SkyTeam. More recently, former politician Camiel Eurlings, a controversial choice, is now on the International Olympic Committee (and also, according to De Telegraaf, under investigation after an alleged assault, reported by his former girlfriend, a model).
"The management strategy at KLM Cargo is a pity," said Joost van Doesburg, public affairs for the Dutch airline pilots' association, and formerly head of air freight policy at EVO.
"We still see a possibility that KLM can be the most important cargo carrier at Schiphol, but it needs to upgrade its services."
Mr Smaling also asked parliament whether the actions of the Gulf carriers had led to the challenges faced by Martinair, and asked it to consider whether Schiphol should have open skies for cargo, a move EVO has urged the government to consider.
However, the minister responded: "…aviation policy is to achieve an optimal quality of air connections to strengthen [Schiphol's] position. The granting of traffic rights is an important instrument. There is no question of an open skies policy in cargo."  But he added that imports to the Netherlands via other countries should be minimised.
Mr van Doesburg said VNV was in favour of a recent EU move to negotiate aviation agreements with other countries and move away from bilaterals.
"We support the EU Fair Competition Act. The Netherlands gave away a free market to the UAE, but the Gulf carriers need to compete in a fair and transparent way. We believe EU carriers can compete with them but the [Gulf carriers] must need to make a profit, and take loans with proper interest rates.
"We are really hoping we can start these negotiations with the help of Violeta Bulc [EU transport commissioner]. But that will mean freezing current negotiations."
Mr van Doesburg acknowledged that some countries such as Hungary, currently in bilateral talks with the UAE, do not have a national carrier, so it could be in their interests to allow airlines such as Emirates full traffic rights.
"The trouble is that they might just then eat all the fish in the pond and, in the end, the Gulf carriers could put prices up and also make it hard for start-ups.
"Martinair might be the next victim."
A group of Martinair pilots are currently in court demanding profit share from the airline from 2013. Lawyers for the airline argue however that the carrier could not afford it.
The number of pilots at Martinair is expected to be about 100 by July, down from 230. But VNV said that although the pilots couldn't expect similar jobs at KLM, it had found contracts for them at China Southern, China Eastern and Transavia.