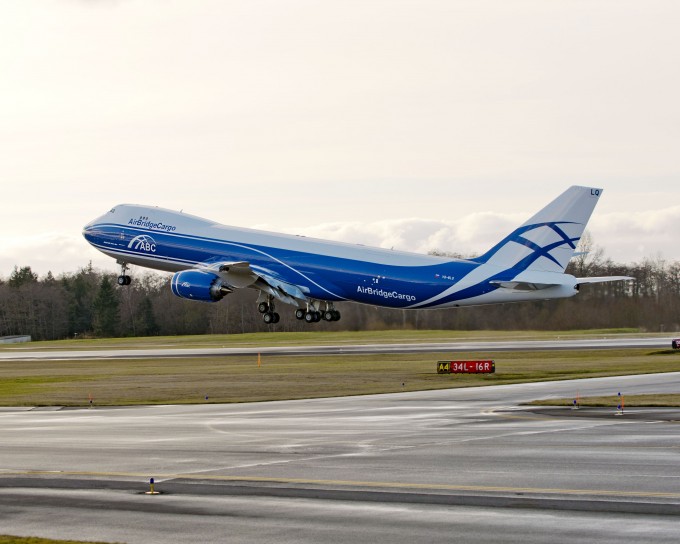 AirBridgeCargo (ABC) has big ambitions. As rival Cargolux sets its sights firmly on China, as it must, it seems ABC is stepping into a void that is left, taking two of Cargolux's top executives and, according to forwarders, as service levels decline at Cargolux, they are rising at ABC. There appears to be a new "forwarders' airline" in town.
But ABC is not resting on its laurels on service. It is becoming CEIV certified, the new IATA quality stamp for airfreighting pharmaceuticals, in key global gateways and Moscow. It wants to improve service levels for "special traffic" flows and is also hoping to do more charter work, a part of the business which doubled last year.
"We are not done," says Robert van de Weg, senior vice president of marketing and sales. "We have a lot to do. We have been focused a lot on getting close to customers – and we want to get closer to mid-sized customers – we are not yet satisfied."
But its customers appear to be, however. One executive at a top 10 forwarder told The Loadstar: "ABC is very consistent. We use them a fair bit. It's a robust service – but not cheap.
"It's got good solid management; good people. It's a good service provider, and is no longer the joke of the industry – now the planes turn up.
"ABC has travelled the furthest distance in the shortest time – it has been the mother of all transformations."
In terms of quality, Mr van de Weg says it must be further improved.
"The perception of quality lags the reality. We have been a quality airline for three years, and now the market recognises that. We see further opportunities to enhance – we want to do better."
The volumes speak volumes. Last week ABC reported that tonnage rose 30% year-on-year in January, aided by the introduction of three 747Fs to its fleet last year. It expects 15-25% growth this year – a far cry from the overall industry prediction of about 3% growth.
"It depends on the final fleet plan for the year," says Mr van de Weg. "We want to keep up this growth momentum – it's all about momentum."
ABC picked up a little traffic from the demise of the third largest cargo carrier in Russia, Transaero Airlines, although this was offset by "the backdrop of the fact the Russian import market has gone down by 35% year-on-year".
Nonetheless, Volga-Dnepr Group airlines carried almost 60% of all cargo last year in Russia – most airlines in the country saw declines in cargo and mail tonnage, according to Russian data.
But ABC is centring itself firmly outside of Russia. It announced this month that it was starting routes to Africa, courtesy of a contract with new sister airline CargoLogicAir (CLA), formed for this very purpose, following Air France-KLM's refusal of a partnership with Martinair. It is currently not looking at such large partnerships, reveals Mr van de Weg.
"We are focusing on capacity agreements such as that with CLA rather than partnerships, and we've bought capacity from Air Atlanta Icelandic."
Now that CLA is operating, routes are opening up and enhancing the network is one of the main goals for this year.
"The network has so many open spots. The way ahead is to open markets out of Europe," says Mr van de Weg. "Africa is step one, with the CLA wet lease. We foresee more in Africa, but also we are targeting eastbound from the US to Europe. Customers are coming to us and asking – there are maindeck opportunities there."
He notes other opportunities. "Clearly Cargolux is big in China and that will always have an effect. At the same time, it might be focusing less on other markets, which also brings opportunities."
He is not fearful about the Chinese economy, noting that it is still a "massive base of production" – and that much of the gloom is stock market-related, rather than the "real economy". And there are growing amounts of imports.
But ABC is looking more southerly. It started services to Hanoi last year, and is eyeing other opportunities in the region.
"We see more factories moving out of China to south Asia and Indochina. There will be a shift of capacity, but it will be very gradual, nothing immediate. Cambodia, Bangladesh and Myanmar could be areas of growth, with imports through Singapore," he says.
ABC doesn't reveal any financial details, so it's hard to tell how it's really doing, and the market is currently uncertain.
"Prices are dropping, and the fuel cost is also dropping. Yields come down more in some markets than others; some could see a recovery. If you compare 2016 to 2015 or 2014, we have to see how the dynamic economics of variable revenues and variable costs unfold. However, we seem to be reaching a new market equilibrium."
Mr van de Weg predicts that there could be some casualties in the industry. "There will continue to be a shakeout of those who can't stomach it.
"But those with low costs, operational flexibility, knowledge of the market, and who is close to their customers will survive. The new normal means it's simply a tough business."