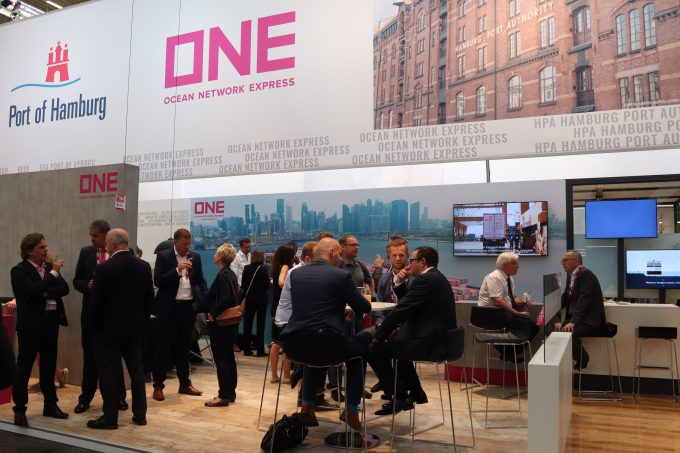 Japanese ocean carrier Ocean Network Express (ONE) appears to have fully recovered from its abysmal start-up following the merger of the container businesses of K Line, MOL and NYK on 1 April last year.
It is now looking for opportunities to maximise its revenue to reverse the disastrous nigh-$600m loss of its first 12 months of trading and move into the black.
According to the monthly lifting data published by ONE, headhaul carryings on the key Asia-Europe and transpacific tradelanes reached 82% and 86% respectively in April, which suggests a return to the sort of utilisation levels achieved by its peers, substantially above the numbers reported in the first quarter of operations.

Moreover, The Loadstar understands that the soon-to-be-published vessel utilisation figures for May will show continued progress.
Meanwhile, targeting improved efficiency, and thereby maximised liftings, ONE announced today it is planning to implement Navis affiliate XVELA's cloud-based collaborative network for ocean carriers and terminal operators, initially on its Latin America services.
This follows fellow THE Alliance member Hapag-Lloyd, which has rolled out the Californian company's platform on the route.
"The transparency and collaborative stowage capabilities of the XVELA and Navis integrated solutions will provide us with a better decision-making process and more efficient operations across our network," said Takashi Kase, senior vice president global vessel operations at ONE.
"We have been sourcing a technology that supports our goal in driving process innovation. We are starting with stowage collaboration, but we see a strong future with XVELA to bring about a positive win-win partnership between ONE and our called terminals."
ONE notched up a record-setting stow in February with a load of 19,190 teu on the 20,146-nominal teu capacity MOL Tribute at the PSA Singapore terminal, eclipsing the previous record for the most containers loaded held by the Mumbai Maersk, with 19,038 teu achieved at Tanjung Pelepas Port in Malaysia in August 2018.
The new world record was achieved using Navis's StowMan vessel stowage planning software, but in the fast-moving world of liner shipping, records don't stay around for long and The Loadstar learned today that Maersk regained the title when Monaco Maersk departed Tanjung Pelepas on 31 May with 19,284 teu on board.
At ONE's stand at Transport Logistic in Munich last week, shippers were positive about their relationship with the carrier, some even praised it for its perseverance in working through the difficulties associated with the merger.
Just a year ago, loyal Japanese trading houses that had supported the carrier trio for decades were obliged to book containers elsewhere during ONE's start-up systems meltdown. Unfamiliarity with the chosen NYK procedures and an insufficient staff secondment from the legacy companies 'gifted' business to competing lines both outside and inside THE Alliance vessel-sharing grouping.
A company source on ONE's stand at Transport Logistic admitted it had been "a terrible time" for staff and that she had considered leaving the new organisation after working at MOL for several years, but said she was now "very happy" with the current situation, which she described as being "back to traditional Japanese ways" of loyalty to staff and their wellbeing.