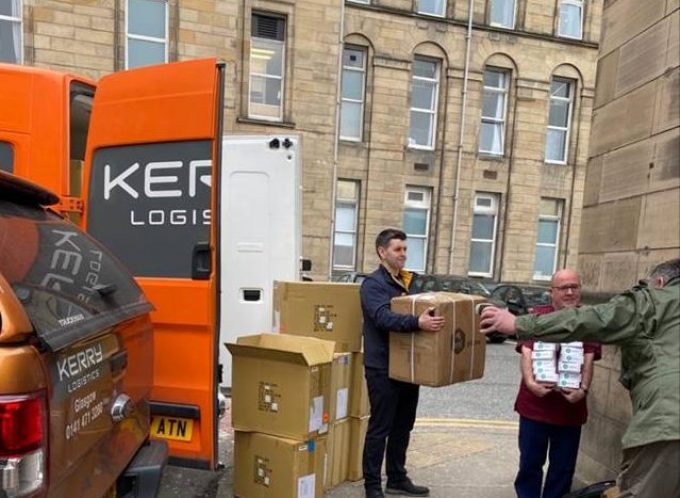 Kerry Logistics and customer Trtl, a travel retailer, have won the inaugural The Loadstar Hero of the Week title, for their generosity in supplying services free of charge.
Kerry was contacted by Trtl, which had – given current events – 10,000 pairs of spare aircraft compression socks in stock and wanted to give them to health professionals in its native Scotland.
Kerry offered its services and distributed 5,000 pairs of socks to NHS hospitals in Glasgow, Aberdeen, Edinburgh and Dundee, with 5,000 more going to London.
The socks, originally made for passengers on longhaul flights, will help healthcare professionals facing 12-hour shifts on their feet. A study in 2016 found that nurses walk between three and 11 miles a day while on shift, causing some pretty tired, aching legs.
Trtl CEO Michael Corrigan explained: "Over the past few days, I've been thinking about how we can contribute in what is the biggest crisis many of us will face in our lifetimes. When something like this happens, it rapidly puts things into perspective.
"Nurses across the UK will be tested as never before in the coming weeks and, if we can do something to help make the time they spend on their feet more comfortable, we must.
"I couldn't just see these socks sitting in a warehouse when they could be helping people saving lives. That's what's important, and nurses need all the help they can get just now."
Allison Milligan, supply chain & logistics lead at Trtl, added: "We cannot thank the team at Kerry Logistics (Glasgow) enough for their support in helping to deliver our donation to the NHS.
"The relationship between Trtl and Kerry Logistics is very new and still developing, however when I contacted them to enquire if they could deliver the socks to the hospitals, they not only agreed but offered to deliver to all sites free, a very generous offer.
"I think that given the current pandemic it is an excellent example of not only companies but people pulling together for the greater good."
David Yeamans, branch manager at Kerry Logistics Glasgow, said:  "I am really proud of the team for supporting this brilliant initiative by Trtl, which will help so many nurses. I would like to make special mention of Lee Woodward, who went above and beyond to deliver the socks to NHS staff in Aberdeen, Edinburgh, Dundee and Glasgow. In these difficult times, it feels good to be able to do something positive for the people on the front line."
Trtl added: "Thank you to our NHS staff and, as always, we are all right behind you."
The Loadstar will be featuring a 'Hero of the Week' each Friday during the coronavirus crisis. Any supply chain/ logistics company is eligible, for something achieved which is out of the ordinary and for the benefit of others. Please email alex@theloadstar.com for consideration.