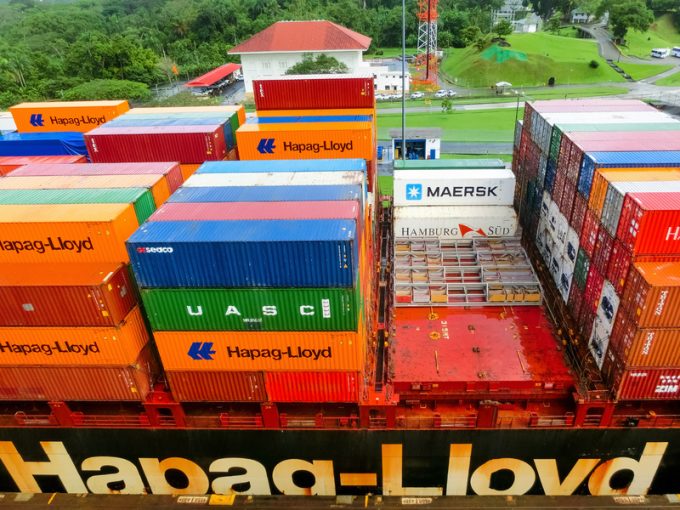 Hapag-Lloyd has posted a net profit of $1.45bn for the first quarter of the year, compared with just $27m for the same period of last year.
But it said it could have done even better, but for vessel and box shortages.
Revenue was up 33% on Q1 20, to $4.9bn, from 3% less volume, 2.97m teu, for an average freight rate per teu of $1,509. This was 38% higher than the previous year.
Hapag-Lloyd's Q1 lifting decline compares with Maersk's 5.7% volume growth and OOCL's stellar 23.8% and CEO Rolf Habben Jansen said: "I'm not really happy with the volume, because I think we should have done a couple of percentage points more.
"But I also think we are going to catch up later in the year," he added.
Mr Habben Jansen, hosting a first-quarter earnings presentation this morning, attributed the volume decline to port congestion "and a shortage of available vessels and boxes to cover the increased demand".
He added that the carrier had plans to increase its allocation in the coming quarters, but did not elaborate on whether this was within THE Alliance or outside its vessel-sharing agreements via the deployment of extra loaders.
Lars Jensen, CEO of consultancy Vespucci Maritime, speculated that the volume decline could have something to do with the carrier's container control systems.
"The equipment challenge is faced by the entire market, hence the only observation here would be that, apparently, some of the other carriers either had a larger pool of equipment available or that they were better at sourcing more or repositioning them," he said.
Hapag-Lloyd's average rate increase was similar to Maersk's 35% hike, but well below OOCL's 58%, suggesting the carrier had not been able to take full advantage of the sky-high spot rates. It also suggests Hapag-Lloyd was, like its Danish rival, more committed to its lower-paying but more stable long-term contract business.
But it does not appear to be following Maersk's lead in garnering a large number of multi-year contract deals.
"We have seen the number of requests for long-term contracts increasing, and we have certainly also closed some multi-year contracts, but I would still say these are a minority of the contracts agreed, with the majority being for one year," said Mr Habben Jansen.
Hapag-Lloyd operates a fleet of 258 ships, of which 145 are chartered-in, for a capacity of 1.8m teu, ranking it the fifth-largest carrier, just ahead of THEA partner ONE.
At the end of last year it announced an order for six LNG dual-fuelled 23,000 teu ships, following the liner lead of LNG champion CMA CGM, with, latterly, Zim and MSC opting for the transitional fuel to power their newbuilds.
"We now still believe the fuel choice we made for the order makes sense," said Mr Habben Jansen, "also because those ships can run on different types of fuel and we don't see a very good alternative available at this point in time, and it definitely is a step ahead compared with what we have today."
The Q1 group profit figure was above the full-year 2020 figure of $1.06bn, CFO Mark Frese acknowledged, and Hapag-Lloyd said that, while the "positive earnings trend" was likely to continue in the second quarter of the year, it expected a "gradual normalisation" in the second half.