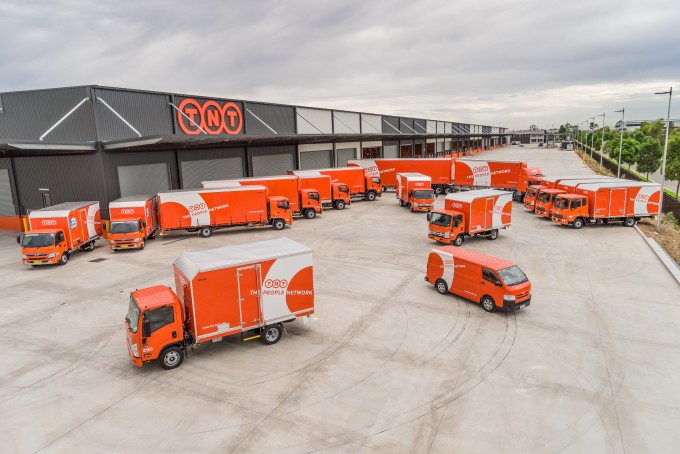 TNT and FedEx are set to become one by June 6, with approval by Chinese authorities the last obstacle to the merger.
In a call announcing TNT's first-quarter results, CFO Maarten de Vries said integration planning was progressing well.
"We are confident of getting approval from China," he said. The merger has already been approved in North America, Europe and Brazil.
TNT reported revenue of €1.58bn for Q1, a 2.2% fall,  and noted that when adjusted for currency effects, fewer working days and lower fuel surcharges, the underlying revenue growth was 4.2%.
Operating income was down €1m, but, excluding one-off charges, TNT's adjusted operating income was €9m, up €8m year-on-year. The company said the acquisition process brought a €4m one-off cost.
TNT appeared most pleased by its rise in SME business. Revenue from small customers grew 6.5% year-on-year.
Mr de Vries said he was "particularly pleased" with a "very encouraging return to revenue and volume growth in China, mainly from SMEs".
SME revenue growth in AMEA was 12.1%, and 8.4% in Europe. Mr de Vries said: "In general, the margins with SME customers are higher than with bigger customers."
All the operating units posted underlying revenue growth – with the exception of North America, blamed on the merger.
"In anticipation of the FedEx acquisition, we are losing customers," said Mr de Vries. "They have either moved over to FedEx or made other decisions.
"It has impacted the top and bottom lines. There has been a pretty steep drop in the numbers in North America."
The international Europe segment saw revenues grew 2.4% to €679m, or 7.8% when adjusted for currency, working days and lower fuel surcharges. International AMEA saw currency-comparable revenue growth of 4.3%, or 8.3% once adjusted. Operating income grew 87% to €15m.
In the domestics segment, revenue fell 7.4% to €575m, with only marginally positive underlying revenue growth of 0.7%. But, noted TNT, "underlying revenue growth in Europe more than offset the revenue declines in Australia and Brazil, where trading conditions remain challenging".
Mr de Vries said Brazil was particularly volatile, but that TNT had implemented "very strong cost measures".
TNT pointed to improvements in sales, marketing and service, which resulted in customer satisfaction being at an all-time high, as well as investment in its Lieges hub. Mr de Vries added: "We continued to simplify and transform our IT structure.
"Our outlook strategy is clearly delivering results," he said.
You can see the full results here.