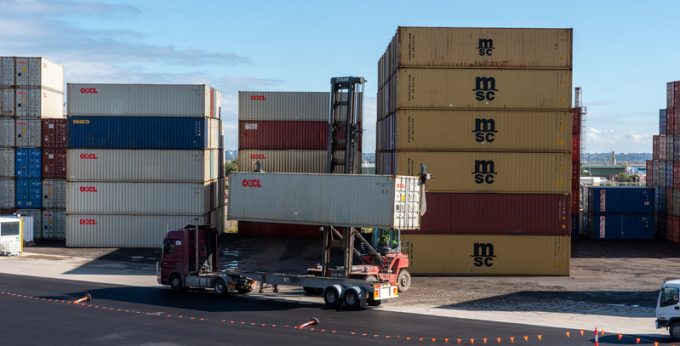 Transport operators in Australia have warned of a coming "bloodbath" over spiralling fees levied by the country's stevedores.
In addition to rapidly escalating terminal access fees, previously known as infrastructure surcharges, a newly created "long-vehicle fee" by Patrick Terminals has been slammed as "a tax on productivity".
Introduced at Patrick's Sydney and Brisbane terminals this month, the A$50 (US$38.80) levy applies to entry by HGVs over 26 metres in length.
According to the Container Transport Alliance Australia (CTAA), the fee would cost operators of higher productivity freight vehicles (HPVs) – capable of carrying four teu – between $36,000 and $108,000 a year.
"This would net Patrick millions," said CTAA director Neil Chambers, and said transport operators were "bewildered" by the new surcharge.
"And this is unlikely to lead to transport operators curtailing the use of HPVs," he added. "Transport operators large and small have invested significantly in these – costing upwards of $500,000 per vehicle combination – so their sunk costs are enormous."
Patrick CEO Michael Jovicic claimed the charge was needed because longer vehicles had a longer turn time, and require an extra worker per shift. Furthermore, he said, the terminal operator was following the government's policy of encouraging rail and reducing road congestion.
These claims have been contested by transport operators. ACFS Port Logistics, which operates container depots and a large fleet of trucks, said: "If this was not a revenue raising exercise for Patrick, it would engage with industry for mutually beneficial outcomes without charging customers and, ultimately Australian consumers, more for services."
ACFS added that, while it would like to utilise more rail services, it was rejected by Patrick for rail volumes between 100-400 teu per week.
The company said it now allocated "single trucks for empty stack runs into the Patrick terminal, instead of HPVs" because of the new long-vehicle surcharge.
"There are twice as many trucks on the road and in the terminal – how much sense does this make?"
ACFS CEO Arthur Tzaneros said the fees charged by stevedores to load and unload cargo had risen by almost 500% across Australia since 2017, and adding the long-vehicle fee could cause "a bloodbath".
Figures from CTAA estimate the average terminal access fee in New South Wales, for example, surged from around $24 in 2017 to $121 this month.
Mr Chambers said: "In reality, transport operators have been passing on those fees to freight forwarders, importers and exporters, sometimes with a margin on top to cover the added administration and cash-flow costs.
"However, the long-vehicle fee directly attacks the only productivity advancements container transport operators have relied upon in recent years to stay efficient and competitive, and to be able to pass on some of those savings to their customers."