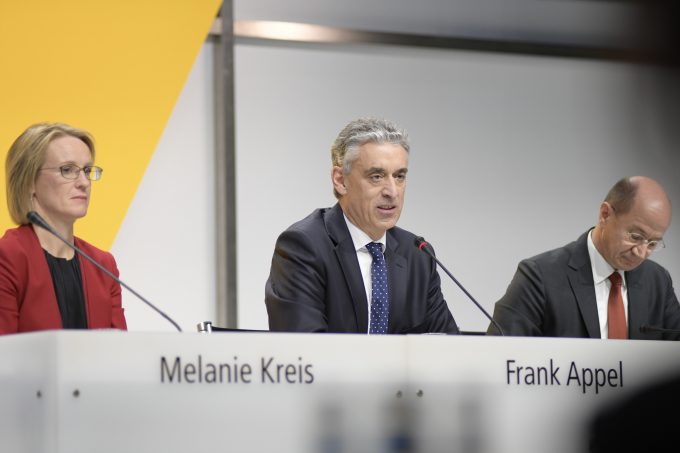 The turnaround at Deutsche Post-DHL's freight forwarding unit has continued – today the German group announced third-quarter figures that show forwarding operations had achieved a year-on-year ebit increase of 58.2%
DHL Global Forwarding posted a quarterly ebit of €106m, the result of focusing on more profitable contracts and proof "that the initiatives to improve cost efficiency are taking effect".
Revenue at the division was up 4.2% to €3.7bn, "despite the more selective approach taken with regard to the profitability of certain contracts", it said,
This was reflected in its volumes, with both air and sea freight showing declining numbers: air freight tonnes for the quarter fell 4%, year on year, to 2.8m tonnes, while ocean freight declined 2.7% to 824,000 teu.
However, gross profit for the division was up 4.2% to €887m, which it said "reflected the selective stance as slower volume is more than offset by marked improvement in gross profit per tonne and gross profit per teu".
It meant that forwarding was one of the group's star performers during a quarter in which new accounting standards [IFRS16] mean its reported debt has shot up, while group ebit declined from €834m in Q3 last year to €376m this year. Net debt has rocketed to around €13bn from €1.9bn.
DP-DHL was also hit by a one-off expense in its Post-Ecommerce-Parcel (PeP) division as it sought to improve its profitability, although this will take time to show on the books. For the quarter, the division – the group's largest in terms of revenue – posted a €209m loss compared with a €307m profit last year.
"To safeguard the ebit growth forecast for the coming years, the group had decided on a series of measures," DP-DHL said in statement. "The steps planned are specifically intended to improve productivity, reduce indirect costs and drive active yield management in the post and parcel business."
Its Express division also had another quarter of decent growth, with revenue by 7.2% to €3.9bn, "driven by solid growth in the international time-definite delivery business, where daily volumes rose by 5.3% compared with the prior year period".
The division grew operating profit by 9.9% to €409m, "on the back of strict yield management and continuous improvements in the network".
Meanwhile, revenues in its supply chain business were hit by the sale of its UK operation, Williams Lea Tag, which dragged quarterly revenues down from €3.6bn last year to €3.3bn this year.
However, ebit for the division increased 3.4% to €153m, and the recent sale of its supply chain business in China was not reflected in the figures. DP-DHL chief executive Frank Appel explained that the sale to Chinese operator SF Express was motivated by a desire for increased Chinese domestic customers.
"Our supply chain business in China was not very successful in terms of our cooperation with local partners, and SF Express will help us improve that because they are already working with lots of local companies.
"If we wanted to increase our domestic Chinese customer base, then we had to have a local partner; there are no other similar plans [to divest supply chain operations] in other countries," he said.