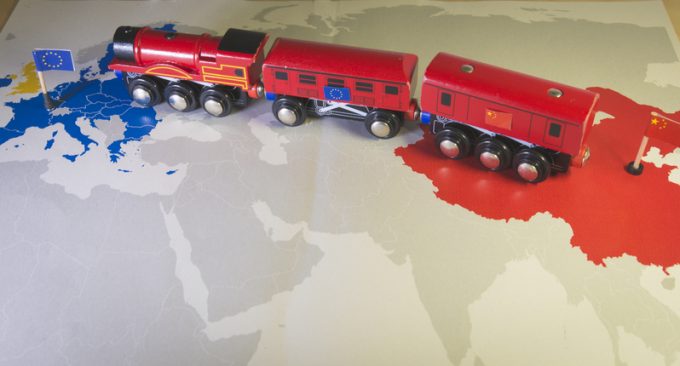 Substantial price and capacity volatility in air freight and blanked sea freight sailings have pushed attention toward overland routes between Asia and Europe.
InstaFreight, a road specialist, is one forwarder offering trucking services across Eurasia and claims that, with congestion affecting Chinese exports, the delivery times are similar to air – but cheaper and "more stable".
Depending on the number of drivers and the origin and destination, InstaFreight claims a transit of between 20 and 22 days, but this could be shortened by a few days if customers pay a surcharge to use two drivers.
"It is our role in such times to be pragmatic and to find solutions to problems, such as the current stagnant flow of goods from China to Europe," said Philipp Ortwein, founder and MD.
His co-founder/MD Maximilian Schaefer added: "With the expansion of our service offering we stabilise the supply chain in a phase of resumed Chinese industrial production and offer a very reasonable alternative to very cost-intensive air and rail transport.
"Due to the backlog of airfreight shipments destined for Europe at Chinese airports, on average we have almost the same overall runtime on the road as in the air."
Depending on the Chinese location, the route goes through Russia or Kazakhstan and Mongolia, noted InstaFreight. Prices for door-to-door delivery are calculated individually, but "only amount to a fraction of current air freight rates".
Rail is also gaining strength. RZD Logistics has launched a transit container service from Shenyang to Enns, in Austria, in collaboration with Sinotrans. The first train arrived on 1 April, while the second is preparing to leave.
"Expanding the geography of transport is one of our priorities for the development of the company in the container transit segment," said Dmitry Murev, general director.
"We have long been working on traditional routes from Shenyang province to Hamburg, Duisburg, Malaszewicze, Warsaw and Milan, so adding Enns to the list of delivery cities is a logical development of a successful service."
And Dachser is touting a 14-day Germany to China rail service, which it said was particularly useful for chemical companies with production sites located rurally in China. It is planning to offer weekly departures.
"Faster than sea freight, cheaper than air freight, easy to schedule and reliable. When it comes to fulfilling certain logistics requirements, rail transport to China along the New Silk Road is an excellent alternative that adds value," said Thomas Krüger, MD, Dachser Air & Sea EMEA.
Both air and sea modes are facing extremely challenging environments, with wildly fluctuating capacity and rates, and some industry observers believe this new focus on overland could be here to stay.
"Currently, there are no premium ocean products on the Asia-Europe trade – if anything, the main trend is for carriers to further reduce ship speeds to soak up capacity," Jan van Casteren, vice president of Europe at Flexport, told The Loadstar last week.
"But you could well consider Asia-Europe rail services as, effectively, a premium ocean product, and there is definitely an increased interest. People are looking for ways to get their goods into Europe as fast as possible and, without air freight, that is the best option," he said.