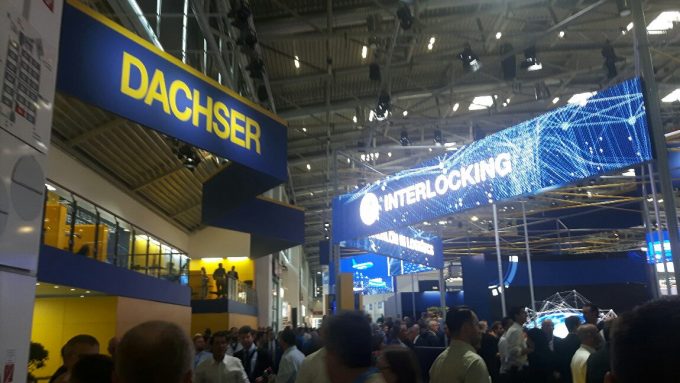 Dachser has ruled itself out of the top-tier M&A market in logistics, questioning the value of major acquisitions to customers. 
Last week the German forwarder finally integrated its Irish partner, Johnston Logistics, after a two-year process, creating Dachser Ireland. But acquisitions need to be handled extremely carefully, Bernhard Simon, chief executive of Dachser, told The Loadstar. 
"You never know about further acquisitions – but not this year," he said. 

"Our acquisition policy is to do it 100% right. It's not about the evaluation of the stock exchange; it's not to please shareholders. We know what pleases customers – 100% integration, and we don't do it to increase our size." 
Dachser is a family-owned business, with some 20 shareholders, and a clear culture of valuing its 30,000 staff and ensuring customers receive a seamless service. These key features would be at risk from the M&A trend, explained Mr Simon. 
"When you buy a company, there are lots of different standards and systems. We are one of the only forwarders with one system worldwide; others struggle with integrating what they bought. In our industry, doing every place differently would never generate value. You need to manage the interfaces very well. Island solutions don't generate scale or synergies. 
"And when you buy, you get redundancies – and that is how you destroy value.  
"It's not our focus to lay off people, Acquisitions are something we regard very strictly. With smaller ones, like Ireland, there are no redundancies. You know who is coming and, as it's a family business, you know the participants. If there are other companies like that, we wouldn't necessarily say no, but it would need to be foolproof." 
He explained that about six years ago, wanting to expand Dachser's US footprint, it started to look at companies there. But the management team could not find a business which matched culturally. And, he added, it would have been very expensive, with "multiples to be paid".  
"So the decision was made to refrain, and to then grow organically." 
He added: "Sometimes there are very specialised businesses which might be interesting, but you'd have to integrate the processes. It'd be much easier to get specialised people. You build up with them and get a specialised team." 
So is he on the look-out for people forced out by the DSV/Panalpina merger?  
"We are not blind. As a family company we have to look at opportunities and each year we look, and know we are much better off doing it this way. It's a very clear message to the market. But always when they are acquisitions, there are opportunities in the market. 
"Customers do not like to be sold. You have to acquire your customers a second time. When they are big movements in the market, customers are very open to talking about it. Already we've seen some doors open that were closed before." 
And, he said, among the "hundreds of knocks" at the door about M&A activity, "no one has asked for 20 years about buying Dachser. 
"Everyone knows we are not for sale. It's a very particular company culture. They know we don't need anyone. We have the very best staff, creating value for the market and ourselves, and staying completely independent.   
"Companies may want us for our road network, but they would directly destroy its value. Only idiots would do it, so why would there be any interest?" 
Mr Simon has little respect for the financial markets and their need to drive growth.
"Institutional investors don't know where the value creation in our industry is, and it's something we'd never give away. I see so many people that know quite well how to do internal processes, but forget the external world – you need a solution that fits global supply chains. You have to make sure logistics is at the top table." 
He also questioned whether the tech-based start-ups relying on the financial sector would be successful.
"There are lots of creative new tech companies with great ideas, but you need to combine them into an integrated network business. We are very surprised about those who are passionate about it, but forget logistics and how to create value in a supply chain.  
"I wouldn't go to Silicon Valley and tell my people that they are idiots – why would Silicon Valley people be smarter than my team?" 
He concluded: "You look at the money that might be gained from the stock market, but we do logistics. We don't build a company and put it on the stock exchange. 
"In the past five months we have travelled extensively to explain what our technology team is doing in response to the markets. People understand our mission to be the world's most integrated service partner in logistics."