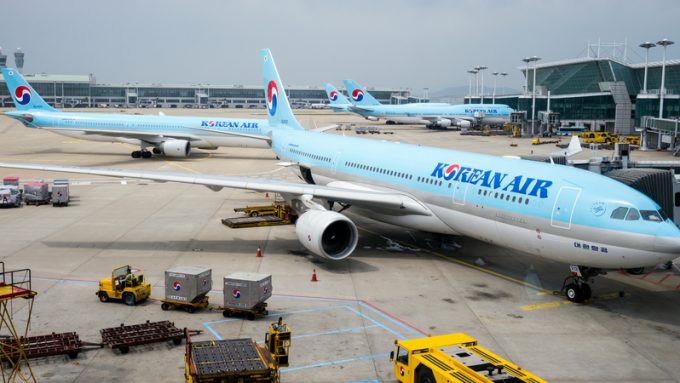 Coronavirus in South Korea has prompted flight cancellations and factory closures, with reports of capacity problems at ports and airports.
Reminiscent of China's sudden isolation in late January, airlines around the world have cancelled or suspended Korea flights following a surge in virus cases in the city of Daegu, North Gyeongsang province.
As of today, there are 1,146 confirmed cases of virus and 12 deaths, according to local media.
In a status update to customers, DB Schenker said belly capacity had been reduced from Korea to markets across Asia Pacific, including Singapore, Vietnam and Indonesia.
"There may be more, to include other APAC countries. Rate increases are expected in the near future," the forwarder added.
Singapore Airlines has stopped its SQ 611 service between Incheon and Singapore, which Schenker said would "lead to capacity constraints and rate increase for Singapore and transhipment cargo."
DB Schenker is reporting "constrained" capacity for both air and ocean freight at Busan and Incheon, Korea's key cargo gateways.
"There are cases of delays of EU import schedules due to the lack of berth capacity in Busan port," the forwarder said. "Capacity has decreased by about 25% to 30% for both west and east-bound due to blanked sailing services by carriers."
Meanwhile, for trade with China, there has been a steep rate increase in Shanghai-bound cargo, Schenker noted, following a 50% reduction in capacity into the country.
Cargo has built up around locations where freighters are operated, such as Shanghai, Guangzhou and Tianjin, creating "huge backlogs" of shipments from the US and Europe, Schenker said, adding that in Hong Kong there were also rate and space issues.
Korea's airlines have been forced to reduce capacity in the face of increasing international travel restrictions linked to the virus. A spokesperson for Korean Air told The Loadstar the main impact on cargo operations so far was due to the outbreak in China and production delays there.
However, the domestic virus outbreak has forced Korean companies into "emergency mode", according to local media. For example, electronics and automobile manufacturers, already hobbled by the supply chain disruption in China and resulting shortage of components, are said to have been forced to halt production at some facilities, due to quarantine measures, including a Samsung factory which produces foldable smartphones.
The vast majority of South Korea's exports are intermediate goods, however, prompting fears of a China-like factory shutdown should further quarantines take place, which would deal another huge blow to global supply chains.