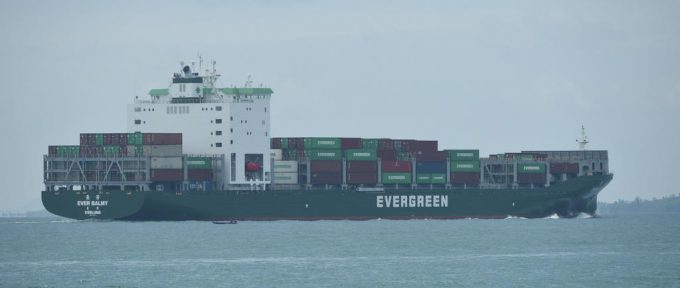 Five of the crew of 22 on an Evergreen intra-Asia vessel have been hospitalised following an outbreak of Covid-19 onboard.
The three Taiwanese and two Filipinos are part of the complement on the 2,800 teu Ever Balmy, which arrived at Wan Hai Lines' container terminal on Saturday.
The five, who have not been vaccinated against Covid-19, were tested after developing fever and flu-like symptoms upon arrival in Kaohsiung. Positive Covid-19 test results were reported yesterday and they were taken to hospital for treatment – the remaining crew members have been quarantined on the ship.
The 2017-built Ever Balmy serves Evergreen's north-east Asia-South-east Asia service, calling at Tokyo, Yokohama, Nagoya, Yokkaichi, Taipei, Taichung, Kaohsiung, Singapore, Port Klang, Penang and Tanjung Pelepas
It was to have departed for Singapore on Sunday, but will now leave Kaohsiung tomorrow and arrive in Singapore this Sunday.
However, Chang Po-yen, head of Maritime Port Bureau's southern maritime affairs centre, said: "We have asked Evergreen to propose an epidemic prevention plan. If the remaining 17 crew members stay on the ship, they will have to wait out a 14-day quarantine. Vessel operations can resume only if no one is diagnosed and the crew is supplemented. However, the entire crew can also be replaced.
"After the ship is completely cleared, a new batch of crew can board the ship and resume normal operations. Whether the crew can be replaced smoothly remains to be seen."
Kaohsiung's Department of Health official Pan Yu-ying said that based on the Covid-19 virus' 14-day incubation period, the five crew members likely contracted the pathogen in Japan, which has been seeing record infection numbers.
Between 26 and 29 August, Ever Balmy docked at Tokyo, Yokohama, Nagoya and Yokkaichi to collect and unload cargoes, before arriving in Taipei last Friday.
Mr Pan said that 71 people who were in contact with the infected crew have so far, tested negative for Covid-19.
Evergreen said the government's Central Epidemic Command Centre was looking into the cause of the infections and the company would assist the epidemiological investigation.
Taichung port, where Ever Balmy called before Kaohsiung, has carried out disinfection procedures, said Taiwan International Ports Corporation, which oversees the island's port and terminal facilities.
Evergreen explained that only a few seafarers had boarded the Ever Balmy recently and the other crew members did not spend much time ashore. The carrier emphasised that before boarding its ships, all crew members must comply with strict quarantine regulations.
Depending on their Covid-19 vaccination status, crew members must be isolated for seven to 14 days in a hotel selected by Evergreen. After the isolation period, crew members must test negative for Covid-19 within three days of boarding a vessel. On board, the seafarers have to take their temperature three times daily and record the readings. Crew members also have to take turns, in groups, to have their meals.
Crew members must be quarantined for 14 days after leaving Evergreen's ships in Taiwan, in accordance with island's entry regulations.