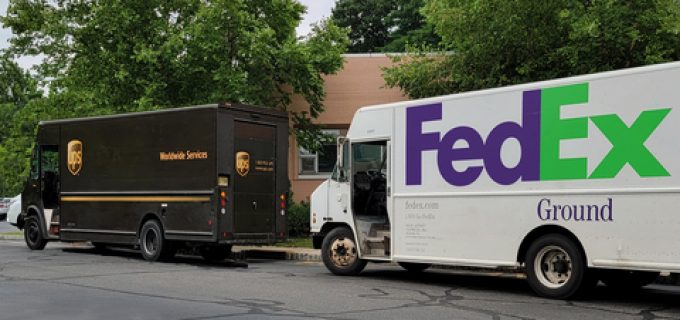 FedEx, UPS and Amazon are trying different ways to keep margins in their parcel business up.
While FedEx is further shrinking its Sunday delivery activities, Amazon is trying to boost fulfilment volumes by wooing other online merchants and UPS is extending surcharges on residential deliveries.
According to a memo to contractors performing the actual deliveries for the FedEx Ground unit, the company is to sharply reduce coverage of the US market from mid-March.
This is the second time FedEx has taken a knife to the Sunday delivery scheme it launched in 2020 to get a leg up on its competitors. Prompted by much higher-than-anticipated losses, management pared down the scope last summer from 95% to about 80% of the US population. The new round will bring down coverage to about 50%.
Essentially, Sunday delivery is going to be reduced to urban markets – FedEx declared it would primarily serve "densely populated areas with proven customer demand".
It said: "As we continue to adapt and streamline the FedEx global network to meet our customers' needs in a rapidly shifting landscape, FedEx Ground is making further adjustments to better align our Sunday residential delivery operations with current customer demand."
FedEx aims to achieve $3.7bn in savings in fiscal year 2023. With its low utilisation, the Sunday service is a prime candidate for cuts. Moreover, the slowdown in e-commerce has thinned volumes even more. FedEx Ground registered a 9.1% drop in package volume in the quarter ended 30 November.
And presumably, FedEx Ground contractors are not going to be disappointed with the reduction in business: during a dispute over remuneration and financial support in September, one large contractor claimed tat the Sunday service had wiped out more than one-third of contractor profit margins.
Meanwhile, Amazon is trying to boost third-party traffic in its parcel fulfilment network. It announced that ,starting 31 January, it would accept shipments from third-party merchants to subscribers using its Prime delivery service.
Amazon started allowing such traffic on the Prime network last April, but this was limited to a relatively small number of online merchants, and by invitation. Now, Amazon is throwing this open to any online sellers, who will be charged for deliveries as they go. These merchants have to sign up for AmazonPay and Fulfilment by Amazon, but they do not have to sell directly through Amazon.
The company also struck up a deal with e-commerce platform BigCommerce to allow merchants using the platform to access Amazon's fulfilment service.
Faced with galloping logistics costs and slowing e-commerce business, Amazon is looking to drive-up its network utilisation. For the first time, the e-commerce behemoth lost market share in the US last year, according to Insider Intelligence, a digital transformation research firm. At the same time, membership of its Prime subscription scheme appears to have stalled. At the end of last June, it had 172m members, roughly the same as six months earlier.
Amazon has increasingly offered its logistics set-up to third parties to achieve better utilisation of its assets. The most recent initiative has been its effort to sell excess capacity on its cargo aircraft. Its freighter fleet has grown to about 100 aircraft, and the combination of slowing traffic and increased operating costs makes this a costly undertaking.
In the first six months of last year, Amazon's logistics spend was 42% higher than in the first half of 2020.
And, after acknowledging it had excess warehouse capacity, last year the company offered space in its warehouses to third parties. Amazon more than doubled its warehouse footprint between early 2020 and the end of 2021 and has since shuttered, or postponed, some warehouse developments.
Elsewhere, UPS is looking to keep its margin up via customer wallets. The integrator has announced it would be extending the surcharge on residential deliveries that usually runs until mid-January. And it has dropped the word 'peak' from its surcharge menu and now talks of 'demand surcharges'.
UPS said surcharges "help protect our network and ensure UPS receives appropriate compensation for additional costs to maintain our high-quality service against the backdrop of dynamic market conditions".
The surcharges are a good deal lower than peak season levies, which have ranged up to $7 per parcel. UPS charges between 40 and 60 cents per parcel for shippers that send more than 20,000 a week.
Clearly the era of rapid e-commerce growth fuelling frantic network expansion has changed to a focus on controlling costs and trying to keep up margins.