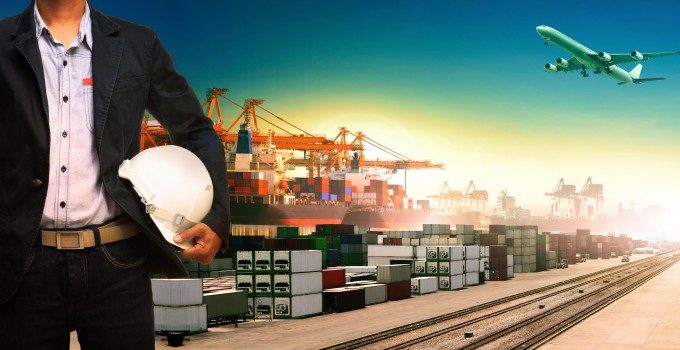 While the first commercial call of a containership at London Gateway was certainly accompanied by the requisite fanfare – top executives from port owner DP World and shipping line MOL flew in for the occasion, accompanied by a marching band – the port's team sought to downplay suggestions that the facility was now ready to begin competing for a place on the world's largest shipping strings.
"We have built London Gateway to handle the largest ships in the world, but we also have to be realistic that we are going to add capacity in phases and we are at the moment a one-berth operation – we can handle any size ship, but only one at a time," London Gateway chief executive Simon Moore told The Loadstar.
"This is not the formal opening of the port – that is expected to be in March or April next year," He added.
The terminal's second berth is scheduled to begin operations next year.
The location and construction of London Gateway, along with the design of the terminal and its investment in hinterland links, was predicated on serving the Asia-Europe trade, acting as a key node in container supply chains that deliver Asia-produced goods to the UK consumer, of which a significant proportion – and certainly the wealthiest and most consumerist – are based in London and south-east England.
However, The fact that it its first service was a north-south string that specialises in transporting perishable products and wine from South Africa to northern Europe does not really fit with this narrative.
Indeed, It is ironic that, given London Gateway's slogan is "ship closer; save money", in an obvious bid to win traffic from shippers targeting London and the affluent south-east, the first service it won actually sees ships diverting from the previous port, Tilbury and its rebranded London Container Terminal, which is technically nearer to this particular end market, and had already carved out a niche for itself as a port that specialised in fresh produce cargoes.
"The first thing to say is that Tilbury was a doing a very good job for us. This move in no way reflects on its operations," a senior MOL executive told The Loadstar, "But the fact is that the if you look at the scale of the development here at Gateway, it is clearly going to be a very big thing and we wanted to be part of it right from the beginning. The SAECs service is going be seeing much larger vessels coming early next year and so the room for development at Tilbury was always going to be limited."
Berthing SAECs vessels remains tide-dependent at Tilbury, while Mr Moore claimed that the berthing of the 4,900teu MOL Caledon on Wednesday evening was at one of the Thames tide's lowest points. "This was the first time this vessel could be berthed on the Thames independent of where the tide was," Mr Moore.
The Southern Africa Express Container Service (SAECS) is operated by a consortium comprising MOL, Deutsche Afrika-Linien (DAL) and Maersk, along with its subsidiary Safmarine, and was recently reshuffled. This has involved it being merged with Maersk's Med Shuttle/225 service, on which MOL and DAL bought slots, and integrated to include a call at the Spanish transhipment hub of Algeciras, replacing a previous transhipment call at the Canaries hub of Las Palmas.
"Algeciras is already a very big Asia-Europe port, so the opportunity for Asian cargo coming here has been created," said Mr Moore.
The new port has already handled one Asia-Europe vessel of course, when the distressed 10,000teu Zim Rotterdam arrived in September after being refused a berth at Felixstowe following a fire in its hold – incidentally, according to London Gateway officials, the fire appears to have been caused by a container loaded with shisha pipe charcoals that had not been declared as dangerous goods.
However, the 3,000-plus boxes that were unloaded from Zim Rotterdam at London Gateway did not move onto their hinterland destinations without incident, as the sudden arrival of those boxes caused serious congestion for a number of days.
Because of the fire, customs had a requirement to scan every box leaving the port,  despite the fact that the permanent radiation scanners had yet to be installed, and neither were the roads fully built – which in combination meant the containers had to do a number shunts around the terminal before customs would agree to release them to waiting hauliers.
Some hauliers complained of waits of up to eight hours, and some even went as far as to refuse picking up boxes at the terminal altogether, but Mr Moore defended the terminal's handling of the ship.
"We were very honest with ourselves – we weren't open; we had no roads; customs wasn't set up; we weren't a live port. We gave ourselves eight hours to decide whether we could take the call and came to the conclusions that we could have no better training exercise," he said.
Another port executive told The Loadstar: "It's all very well people complaining about having to wait for their boxes, but if we hadn't accepted the vessel, those boxes would probably now be sitting on a terminal somewhere in Europe."
In contrast, the handing of the 500 boxes exchanged on the MOL Caledon passed without hiccup – indeed, some shipping executives noted that by launching operations with a weekly call from smaller vessels has given London Gateway an opportunity to ramp up its operations rather than run at full speed from what amounts to a standing start.