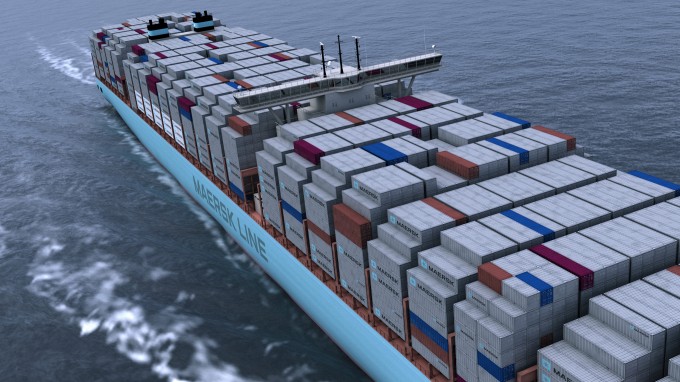 Maersk Line has confirmed to UK customers that it will switch its flagship Triple-E, the Maersk Mc-Kinney Moller, to DP World London Gateway at the weekend from its scheduled call at Felixstowe.
The UK east coast port is continuing to struggle with quay and landside congestion caused by adverse weather and a bunching of ultra-large container vessels, with London Gateway being the biggest beneficiary of a series of ULCV diversions.
The 18,340 teu vessel operates on the carrier's Asia-North Europe AE10 loop as part of the 2M alliance with MSC. It was originally planned to discharge and load at berths eight and nine at Felixstowe, arriving on Sunday at 5pm.
However, Felixstowe is expecting six other ULCV calls between today and Monday, with greater than 350 metres LOA, and all will involve extended stays due to the larger exchanges associated with these size ships. There are another 26 smaller containerships due to call at Felixstowe during the same period.
In November, the port opened a 190-metre extension at berths eight and nine – the former Landguard Terminal – which enables it to handle two ULVCs simultaneously. Total quay length at the port is now approaching 4km, serviced by 36 gantry cranes, but when the big ships are off-window and arrivals bunch, operations struggle to cope.
Factor-in weather delays and it is is a recipe for port congestion – both in getting ships on the quay and a slowdown in servicing the landside operation, with potential for gridlock.
Several carriers have diverted ships over the past month, either to London Gateway – in the case of UASC, Maersk, MSC and Zim – or to Antwerp and Rotterdam for relay back to the UK.
According to a DP World London Gateway spokesman, the UK's newest port has handled 20 ad-hoc vessel calls since early December, which, added to its regular calls, would give it an annualised equivalent of 2.3m teu across its two berths.
After its arrival on Monday, the Maersk Mc-Kinney Moller will discharge 2,700 containers at London Gateway and Maersk Line has opted to push back the work on its 6,252 teu Maersk Kolkata, deployed on the AE1 service, in order to prioritise the ULCV.
Coping with a surge of short-notice diverted imports at London Gateway had proved problematic when the port first opened a couple of years ago, but these issues have since been addressed. The spokesman told The Loadstar the average turnaround time for trucks was currently 45 mins, but he urged hauliers to book early.
"We want bookings to be made as early as possible so we can further reduce the time in the port for hauliers and position boxes better during downtime of the ATSs [automatic stacking cranes].
"This is also based on many new hauliers using London Gateway as a first time, so as they continue to use the port they will now get faster by being experienced," he added.