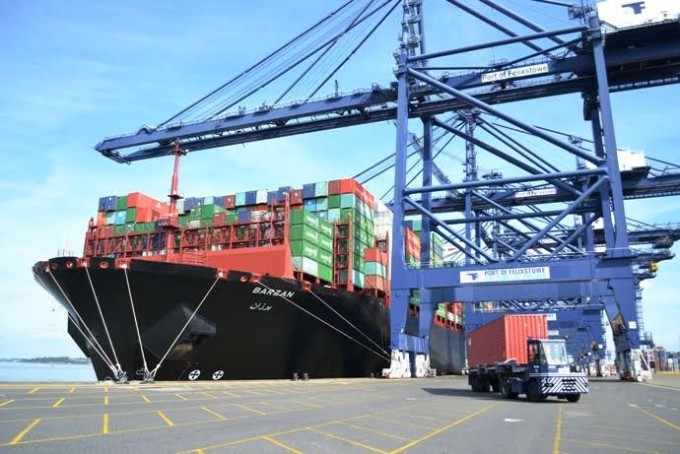 Adverse weather at the UK's biggest container port, Felixstowe, caused more disruption last week, and the resulting congestion prompted UASC to commit its next four ultra-large container vessels to London Gateway.
The knock-on effect of berthing and landside delays has resulted in planned operational changes at the UK east coast port this week and obliged shipping lines to order some vessels to 'cut and run' – leaving export cargo on the quayside.
Due to berth congestion COSCO UK said its 13,386 teu COSCO Italy would omit Felixstowe, discharging UK cargo at Rotterdam on 25 February, but no feeder details for relaying the estimated 4,500 containers has been announced.
One feeder source told The Loadstar this morning this was not unusual, as feeder companies were increasingly reluctant to commit to relaying containers unless berthing windows were reasonably assured at Felixstowe.
He said: "Unfortunately we do not get paid any more if we are sitting outside waiting for a berth for two days, but of course we incur extra charter hire costs ourselves."
In practice, and in order to avoid feeder costs altogether, COSCO is likely to relay the UK cargo on either its next vessel, or one of its CKYHE alliance partners' ships, considering that they will also have taken slots on the voyage and have a vested interest in the containers getting to Felixstowe as soon as possible.
The net result is that UK importers have little transparency on when their containers will arrive, causing significant disruption in the supply chain and potential inventory shortages.
However, UK exporters arguably face even more problems when ports are gridlocked and operations are curtailed. Boxes delivered in good time for a nominated ship at a congested port often face lengthy delays before loading can take place, and in "cut and run" situations this can sometimes result in split shipments, giving exporters even more headaches.
Meanwhile, UASC has said that its 18,800 teu Barzan, estimated to arrive at Felixstowe on 26 February, and 18,800 teu AL Nefud, scheduled for 6 March, deployed on the carrier's AEX1 service with alliance partners, CMA CGM and CSCL, will be the next callers at London Gateway.
The River Thames facility has taken a significant number of diverted ships since the beginning of the year and is consequentially said by hauliers to be becoming "very busy".
Nevertheless, London Gateway's management will argue that its recent endeavours could assist it in signing up a liner string in the network shake-ups that are likely to take place later in the year.