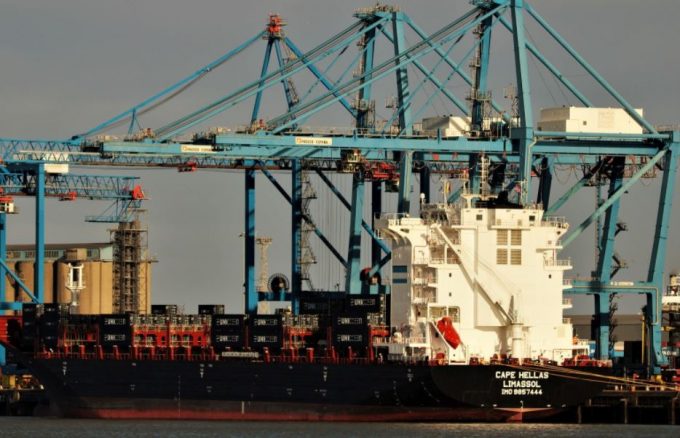 The completion of a second China-UK sailing by Ellerman City Liners suggests the trend for logistics operators to charter containerships has moved into a more mature phase.
This week saw the arrival of the 2,756 teu Cape Hellas at the port of Tilbury, from the Chinese ports of Taicang and Ningbo, the second Ellerman vessel to call  this month, implying that ad hoc box vessel charters are evolving into something that more resembles scheduled liner services.
Ellerman, a long-standing shipping name was revived last year under the UK ownership of UniOcean Lines, and has performed around 30 ad hoc charters over the past couple of years to serve its freight forwarding parent, Uniserve with much-needed vessel capacity on its key China-UK trade.
"The problem for forwarders doing ad hoc charters is that that you don't have a schedule, and that makes it very hard to get any sort of commitment from ports to service the calls," one senior trade source told The Loadstar.
"And from an equipment port of view, operating the vessels on a schedule means you have control over the containers and are able to repatriate the boxes back to China."
Ellerman Lines was founded as a cargo and passenger shipping company by Sir John Ellerman in 1892 but, like many traditional shipping names, its fortunes declined with the advent of containerisation. After incurring serious losses in the 1980s, ownership changed hands several times, eventually to Hamburg Süd, which put the Ellerman name out to pasture in 2003.
Last year, the brand was revived by Uniserve chairman Iain Liddell, who began his career as a shipping clerk at the original Ellerman, before establishing Uniserve in 1984. The line launched operations with the 2,464 teu Buxhansa departing Ningbo on 7 December, collecting cargo in Shenzhen's Dachan Bay sub-port before arriving in Tilbury on 12 January.
According to the vesselvalues.com database, Ellerman Lines has chartered the newbuild 2,756 teu Cape Hellas from Greek owner Cape Shipping for 30 months, at a reported daily rate of $54,000.
Late last year, it also chartered the 5,060 teu SC Mara and 3,500 teu Mona Lisa from Cyprus Sea Lines, both for two-year periods, bringing its fleet to four vessels.