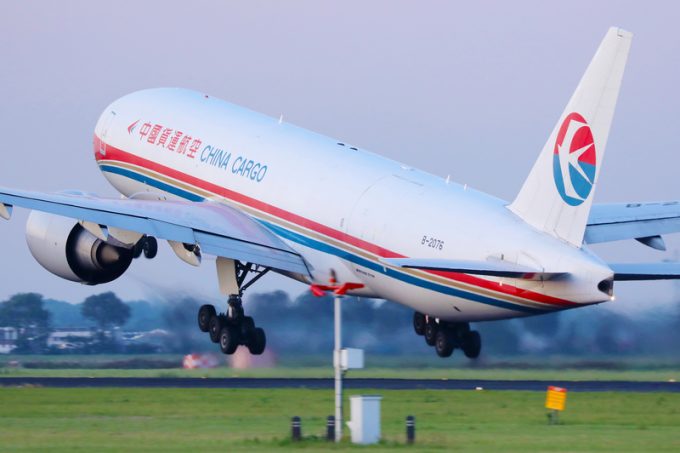 Air freight rates may have edged up in the past month – but forwarders are reporting that falls in capacity due to cancelled flights, combined with vast amounts of distressed sea freight, could see a "crazy" market next month.
"We cautioned last month that a cooling in rates was likely to be short-lived and, as we see a re-acceleration, particularly on US-bound routes, that may turn out to be the case," Bruce Chan, of Stifel, told the Baltic Exchange.
"It's almost silly to think about seasonal patterns in a market as fraught with disruption and chaos as this one, but at the risk of oversimplifying the equation, there are consumption patterns which drive the flow of goods, regardless of this historically unprecedented capacity situation."
He added that the "feared 'freight cliff' from a goods-to-services rotation is nowhere in sight, in our view – at least, not in US end markets".
And, he said: "Retail inventory to sales ratios are still near record lows."
Finally, he argued: "As high as air freight rates are right now, with detention and demurrage and the risk of stock out, the traditional gap between fully loaded ocean costs and air freight rates may have actually narrowed."
So far, forwarders report they haven't seen much modal shift.
"I have not seen much sea freight converting to air recently, but I've heard that some traditional retail cargo might need air freight from late August," said one Shanghai forwarder, adding that any rate increases so far were likely driven by lack of capacity.
"In the past two weeks, quite a lot of flights were cancelled due to strict regulations requesting crews back from overseas go into a 14-day quarantine.
"Recently the three major Chinese airlines cancelled all international flights with crew needing to stay overnight. These included some flights to Paris, Frankfurt, etc. Only flights where the crew does not need stay overnight will operate as normal.
"This has caused a general rate increase, especially since last Monday. This week, rates out of Shanghai are almost stable, but ex-Guangdong and Beijing, they keep going up further."
He added that, with no new capacity, cancellations were exacerbating the space shortage.
"From the second half of August into September, rates are more likely to keep going up – the question is, by how much?"
Some markets are already seeing rises. In India, a forwarder reported that "every week there seems to be a substantial increase in rates, especially to Europe and the US. The approximate rate for the US is more than $8.5 to $9, with a maximum of $13 per kg, while to the EU they are about $3.45 to $3.60. Rates are not stable".
He added: "Many carriers have cancelled their freighter service to India. Not because there is less cargo, but carriers are unable to confirm onward flights."
He said forwarders and shippers were looking for chartered freighter options, but "many carriers don't have equipment availability due to crew shortages and landing permission, as well as issues with the civil aviation authority which is creating a backlog in Indian airports".
A Singapore forwarder, meanwhile said the market was stable.
"Capacity and demand is kept constant and there's been no big increase in rates. However, the situation may worsen from September, which is the traditional peak season for airfreight."
He added that large capacities had been allocated to big clients, and there was little space for ad hoc bookings. As a result, sea-air via the hub was "an ideal choice for moving large volumes within a shorter timeframe", although rates were only "slightly cheaper" than pure air.
Forwarders also report that some international carriers are placing a minimum cost on large PMC pallets ex-China, in an attempt to create rates equalling about $8 per kg to Europe. But the market is as yet unwilling.
"Obviously it is a big challenge under current market conditions, so they will need to wait a bit longer, until the market rates reach their target."
Bangladesh, as ever, is working through an airport backlog, hampered by construction, although x-ray machines are now working, said one local forwarder.
"Market intelligence also indicates that the air freight market will be more than crazy in September due to the deadlock situation in ocean freight and normal life in US and Europe."
He added that several airlines had cancelled Bangladesh services "due to low yields caused by fewer passengers".