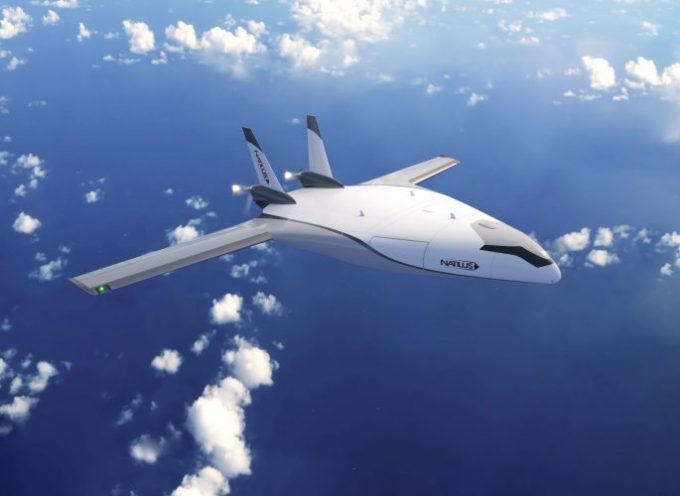 UPS feeder airline Ameriflight is to purchase 20 Natilus Kona cargo drones, swelling the orderbook for the still theoretical aircraft to $6.8bn.
The Kona, an unmanned aerial vehicle (UAV), bearing a design markedly similar to the NASA X-48B blended-wing prototype, is designed to carry more cargo than a tubular aircraft of the same dimensions, Natilus says.
It claims the Kona could carry 4.3 tonnes over 900 nautical miles, using twin Pratt & Whitney PT6 turboprop engines.
The designer also claims a lack of a pilot, and need for pressurisation, and the aircraft's unique shape could create considerable carbon emission savings of up to 50%, compared with a manned flight with similar cargo.
Customers of the innovative UAV also include Flexport, which, in February last year, committed to buy two of Natilus's larger 100t drones, named Nordes and which features twin turbofan engines instead of the Kona's twin turboprops. Other committed buyers include Astral Aviation and Volatus Aerospace.
But, The Loadstar understands,t Natilus's performance numbers are still theoretical, as none of its designs, be they Kona or for its larger models, has yet left the drawing board. In November, Natilus announced a prototyping partnership with Janicki Industries in Washington, which has worked on Predator drones.
"We selected Janicki because it is a family-owned company, founded and run by engineers with the highest qualifications and experience in designing large-scale, high-precision prototypes, tools and production parts," said Natilus CEO Aleksey Matyushev, in November.
However, it is unclear whether a prototype has yet been produced, Natilus saying only that the N3.8T (Kona) "is scheduled to fly in 2024".
Meanwhile, other cargo drone developments include Dronamics, a rival to Natilus but which has working prototypes and more modest performance targets, of a 350 kg payload carried over 2,500km.
Dronamics CEO Svilen Rangelov told The Loadstar: "We are proceeding with the testing programme and development. R&D takes time, especially for hardware, and even more in aerospace."
And Australian fabricator Quickstep yesterday announced it had signed a firm contract with the Bulgarian drone designer and prospective cargo airline for three aircraft by October this year and seven more by July 2024. Quickstep said the anticipated value of the deal "is likely to be in the range of $4.5 to $5.5m" and predicts agreements for thousands more aircraft will follow.
"With Quickstep's expertise in composite manufacturing and our innovative design, this agreement will push the boundaries of what is possible in the air cargo industry," said Mr Rangelov.