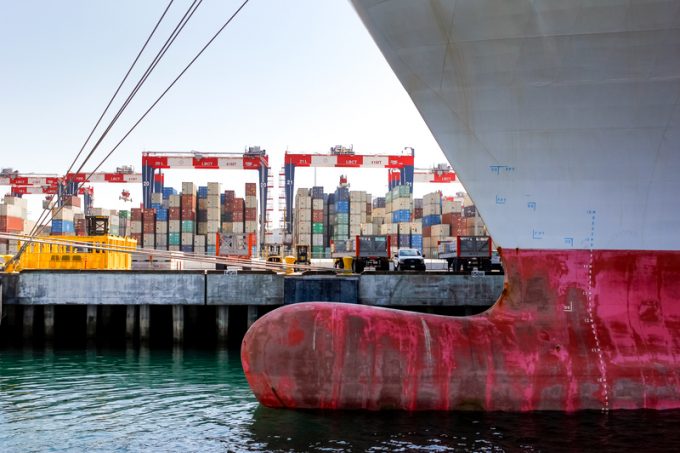 Just as their inbound flows are building up, US importers are facing tight capacity on the water, chiefly out of Asia.
"We had at least two conference calls with customers and shipping lines about this in the last few days," reported Bob Imbriani, senior vice-president international of forwarder Team Worldwide.
"It's more difficult to get space, and you have to book earlier," he added.
Waterborne US imports from Asia in June were 9.5% higher than in May, led by traffic from China, which climbed nearly 14% over May. The port of Oakland reported an unexpected rise of 1.2% in imports for June, despite reduced schedules.
"The ships that have arrived in US ports recently have been very full, leading to some delays in unloading," noted Eytan Buchman, chief marketing officer of Freightos.
Several factors have brought about the boost in US imports. As more states relaxed restrictions imposed to curb the spread of Covid-19, economic activity picked up, with stores and restaurants opening again.
"This demand surge is likely driven by many US businesses adding inventory that has finally run down since their last orders in March or April. As restrictions in some areas are reduced, businesses are re-opening and even US manufacturing is recovering somewhat," Mr Buchman said.
Some observers have suggested the end of tariff exemptions on a multitude of commodities in August may have prompted importers to stock up.
This point has been linked to the relative strength of flows to the US west coast, where capacity has reportedly been particularly tight. Recent traffic appears to have halted the migration of imports from Asia to east coast gateways.
The argument is that, with a tariff deadline to beat and faced with concerns about delays at US ports, importers have probably opted for speed, going for the shorter transit times from Asia via the west coast ports.
Mr Imbriani said the combination of severely reduced airfreight capacity out of Asia, and the resulting spikes in air cargo rates, had caused many firms to shift traffic from air to ocean, adding to the maritime volume build-up.
To the frustration of importers, carrier capacity has not kept up with the rising demand,  and it has been affected by blanked sailings and carrier alliances, Mr Imbriani said, adding that there were signs of one line moving towards an exclusive focus on government business.
The blanking of sailings has prompted accusations that the lines have cancelled more voyages than necessary in order to prop up rates. This past week saw the third general rate increase (GRI) for containers moving from China to the US since the beginning of June.
According to Freightos, this time the price to the west coast went up 7%, to $2,796 per feu, putting the rate level up 76% year on year. Rates to the east coast rose a more moderate 3% from May, to end up 23% higher than a year ago.
Carrier executives have dismissed these accusations and pointed out that they had very little visibility on upcoming demand, which seriously affected their planning capability.
And some blanked sailings have been reinstated. Mr Buchman said carriers had largely returned capacity to normal levels this month, which makes the third GRI in little over a month all the more remarkable.
Still, it is possible to find space, according to Rick Keller, president & CEO of U-Freight America, for whom the capacity crunch has not been too dramatic so far.
"Obviously the rates have increased, but we have been able to secure capacity/bookings as needed," he reported.