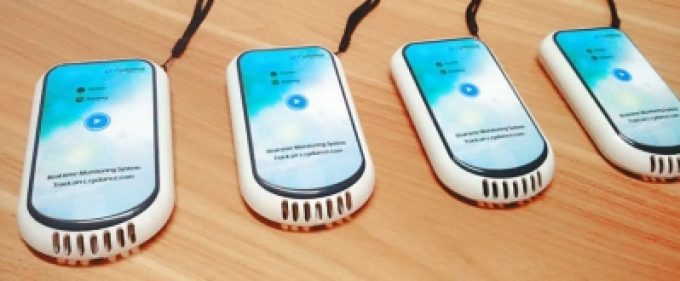 Shanghai-based Cydiance Technology is the latest firm to help perishables shippers monitor real-time temperature at pallet level to avoid the "black hole" of supply chain visibility.
According to Cydiance managing director Austin Gu, the weakest link in perishables supply chains is lack of visibility during transport.
"When you have a shipment at sea you know nothing – it's a blackout period," he told The Coolstar. "You don't even know where it is."
"Sometimes you don't even know if the exporter has actually loaded your goods into the container, or whether it's delayed for a couple of days. They can't let you know because they're not there and don't know themselves."
Pallet-level temperature monitoring, Mr Gu says, provides shippers with true visibility – as, more often than not, temperature recordings provided by carriers and logistics firms are inaccurate.
"Logistics companies usually have their own device in the container, but normally this information is just for them and it's not exact or accurate for importers and exporters.
"Refrigeration systems are often installed at one end of the container and their monitoring device is placed very close to this. So the airflow goes along the top of all the goods and comes back along the bottom, which means different parts of the container actually have different temperatures.
"It's much more accurate to place a device on the pallet," Mr Gu claimed.
Established in 2014, Cydiance is a relative newcomer to the crowded temperature monitoring space. However, Mr Gu said his company had found a niche by undercutting US manufacturers, "while providing better technology" than some of its cut-price Chinese rivals.
The company has two core products: Cydiance C1 is a basic, single-trip electronic temperature data logger, which runs independently and produces a PDF report for the shipper to view once the cargo reaches its destination.
The second product, Lorca (pictured above), is a disposable device that provides real-time location and temperature monitoring for shippers, consignees and logistics partners.
According to Mr Gu, pallet level monitoring places the spotlight firmly on the performance of logistics companies.
For example, in China, Cydiance has a well-known fruit producing client that serves Walmart, Metro and other large supermarkets, producing around 18,000 tonnes of fresh fruit a year. In June, a shipment of hami melons arrived and all were rotten after a 50-hour journey by truck from Xinjiang to Shanghai.
Mr Gu said the shipper was able to recoup the loss of Rmb250,000 (US$37,700) because, via pallet level monitoring, they could prove the temperature deviated from the agreed range.
"The client was able to claim from the insurance company, and then it was a problem between the transporter and their insurance company," he added.
Cydiance is also developing a shared platform for enhanced monitoring and collaboration between importers and exporters. It shares real-time data on temperature and location, but also synchronises access to export and inspection documents, as well as some freight forwarding information.
"With real-time monitoring we have instant results from the device and we know what's happening during transport, so the platform will provide the importers with more time, if necessary, to have a solution ready when the goods arrive," said Mr Gu.
While he is aware of improvements to the temperature monitoring solutions deployed by carriers, such as Maersk Line's Remote Container Management system, which also promises shippers data in real-time, Mr Gu said Cydiance would continue to "protect the shipment owner".
"Logistics companies can obviously do their own monitoring of their service, but the shipment owner also has the right to find out what's happening," he added.