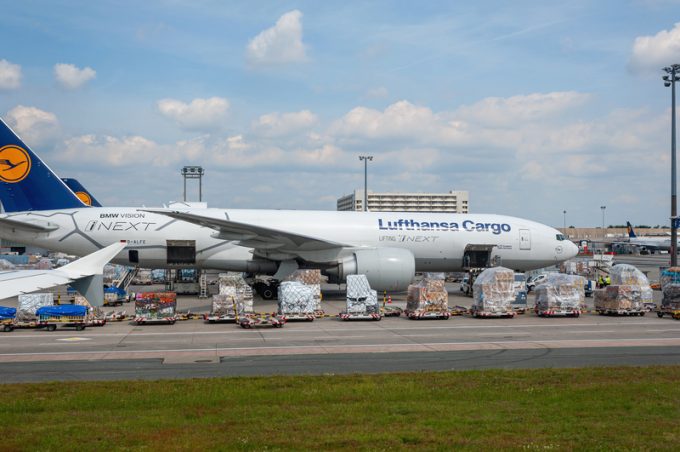 Lufthansa Cargo is the latest carrier to suffer operationally from an outbreak of Covid and has been forced to cancel all transit traffic through Frankfurt.
It has advised customers to cancel all transit bookings, saying in a note to customers this morning: "We unfortunately see no other option at the moment than to take some measures at the Frankfurt hub. As of now …  there will be a transit embargo for Frankfurt."
It added that customers should cancel shipments which have not been delivered, while freight which has already been accepted will be dispatched "as soon as possible".
LC added: "We firmly believe these measures will contribute to stabilisation and that we can gradually return to normal operations."
However, a spokesperson would not be drawn on how long it will take to recover, stating : "We hope that the measures will show a positive effect within days so we can go back to normal.
"Unfortunately due to confidentiality we cannot say anything regarding our staff or the staff of our suppliers."
In its note to customers it said: "Due to its high contagion, the Omicron variant of the coronavirus continues to keep us very busy and the infection figures in the Frankfurt/Germany area have reached new record levels. We are now also painfully feeling the increased infection incidence.
"Currently we are facing an increasing number of Coronavirus cases within our organisation, especially at the Frankfurt hub. This is leading to a reduction in staffing levels, which is delaying our operations at this stage."
One European forwarder told The Loadstar: "This is pretty staggering and will be painful.
"Either the cargo is trapped and not moving if in the network, or you have to book elsewhere with alternative carriers, which will then increase demand and undoubtedly mean rate increases on air cargo if Lufty is out of the game for any time.
"There are always consequences in the shitty world of freight forwarding. Maybe they will accept cargo in Italy at their new joint airline," he added, dryly.
Costs are already on the rise. With jet fuel prices 15.7% higher than a month ago and 74% higher than a year ago, airlines including Emirates and SilkWay have been announcing fuel surcharge increases.
"More inflation in the freight industry," commented one forwarder, gloomily.
Lufthansa has increased its 'airfreight surcharge' by about 13%, noting: "The sum of cost components included in our airfreight surcharge has increased in the past weeks. Consequently, Lufthansa Cargo is increasing its airfreight surcharge."
The carrier declined to outline the cost components of the surcharge, but one forwarder helpfully replied: "It's just money the airlines want, to increase profit and margin outside of the air freight charge."