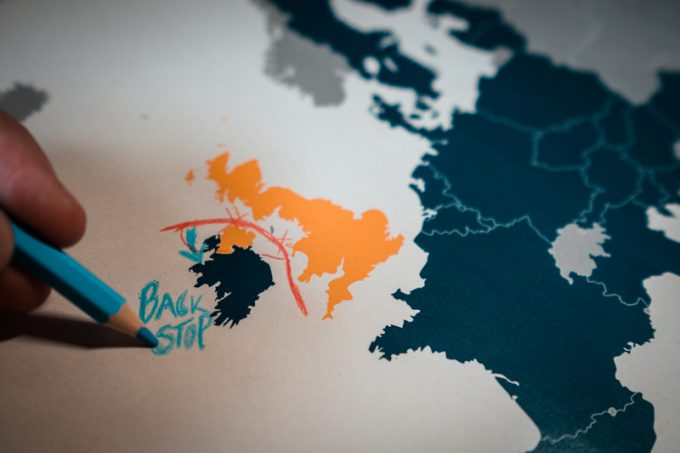 The cost of trading in Northern Ireland is set to soar, post-Brexit – but claims that there will be food shortages have been dismissed as "scare-mongering".
Director of the Northern Ireland Retail Consortium, Aodhan Connolly, last night warned that new customs requirements could cost retailers "tens of thousands of pounds per load".
"Export health certificates all in cost around £200 and would be needed for every product of animal origin, with an average supermarket truckload requiring 400," Mr Connolly told the BBC.
"A worst-case scenario sees costs increasing by tens of thousands of pounds, which we, as an industry that is high-volume, low-margin, nor the Northern Irish consumer can afford.
"In such a situation either the product or the business model becomes unviable, which becomes a very simple equation for business."
Mr Connolly said he and others were working with government on mitigation measures to avoid this, but an agreement had yet to be reached.
But an industry source told The Loadstar that headlines about empty shelves were "nonsense" and "total scaremongering", with Northern Ireland having already this year proved its capacity to soak up increased costs.
"We saw at the start of 2020 a surge in the cost of items crossing the Irish Sea as a result of the implementation of [the IMO's] new low-sulphur regulations," said the forwarder.
"The press did not mention it, but those regulations increased the cost of goods in Northern Ireland by 10%, yet shelves remained stocked."
He added that he was aware of "major supermarkets" paying above-market rates to independent hauliers to ensure capacity servicing Northern Ireland.
Another source agreed food shortages were unlikely, but said the key issue for the industry was knowing what the new costs of business would be.
"With Brexit, the problem we have is not that costs will increase, but that we do not know what these costs will be," the source told The Loadstar.
"If we are imputing one customs entry per truck, it will be minimal, but if the cost is per individual consignment then we are in different territory."
The source said his firm carried 30 to 40 consignments per truck and would be looking at north of £1,000 for each vehicle.
Both sources said it was vital that the government provided clarity on what exactly would be required.