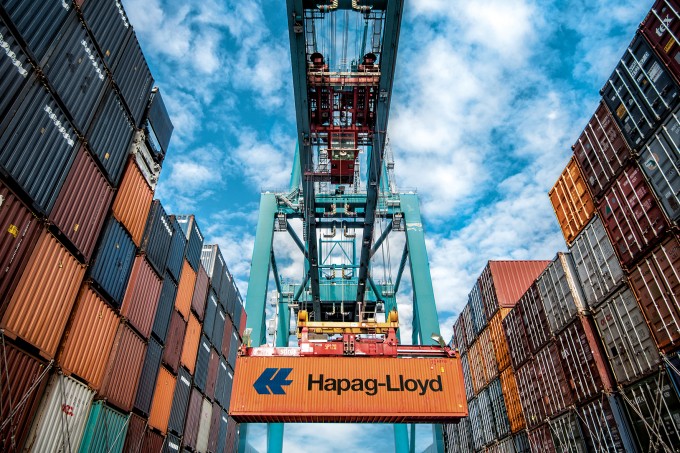 After 11 consecutive weeks of declines, container shipping spot freight rates between Asia and Europe edged upwards last week.
However, there is still no traditional spike showing in the market ahead of carriers' general rate increases (GRI) scheduled for Friday.
The Shanghai Containerised Freight Index (SCFI) on 25 March recorded an increase of $42 per teu for North European ports and $53 per teu for Mediterranean destinations, taking the rates to $247 and $248, respectively.
This is good news for embattled carriers on the route, and comes after anecdotal reports from Asia of carriers offering so-called 'zero rates' to shippers.
It is thought that these most likely related to 20ft containers, which are in less demand on the headhaul leg than the backhaul – with European exporters of recycled materials general opting for 20ft boxes. Ex-Asia zero rates had allowed some carriers to reposition 20fts to Europe virtually free, with shippers paying the terminal charges.
Asia-Europe container lines announced GRIs averaging $500 per teu for 1 April after rates fell to record lows and two previous GRI attempts this month were ignored by the market.
According to forward data from price benchmarking platform Xeneta, there is scant evidence yet of a big jump in spot rates ahead of Friday's GRIs, although it said pre-paid deals being done for April indicated increased market rates.
Indeed, The Loadstar's feedback from shippers on the next GRIs has been generally more favourable than hitherto. One UK shipper said he considered the rate requests this time "not unreasonable", compared with the "stupid" $1,000 per teu GRIs announced in the past.
Meanwhile, freight rates on the transpacific continue to come under pressure at exactly the wrong time for carriers, as they attempt to nail down new annual contracts with shippers.
The US west coast component of the SCFI slipped another $13 to $748 per 40ft last week. This compares with around $1,900 per 40ft a year ago, as vessel utilisation levels fall below 90% and despite an estimated demand growth of 6%.
At Hapag-Lloyd's 2015 results presentation last week, chief executive Rolf Habben Jansen remained pessimistic about freight rate recovery on the transpacific, which he feared would be "significantly weakened" by overcapacity.
Speaking to The Loadstar from his Oslo head office this morning, Xeneta chief executive Patrik Berglund said forward data for the route showed no improvement in spot rates – in fact, there was evidence of new contract rates being concluded on a significantly lower basis than for the previous year.
A disastrous final quarter in 2015, which saw almost every container line operating in the red, has possibly been followed by an even worse first quarter this year, leaving carriers desperate to reverse the trend of lower and lower rates.
In its latest Container Insight Weekly, Drewry describes the current situation in the liner industry as "survival of the un-fittest", because, it said, despite the current crisis "carriers have a history of shaking off the threat of bankruptcy".