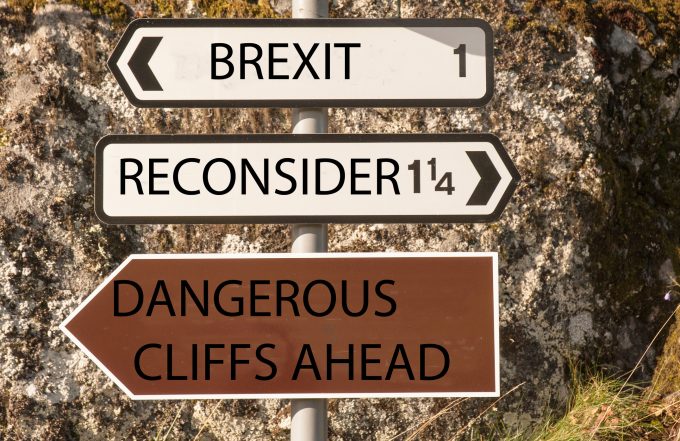 It took a whole week to get a copy of Robin Walker MP's speech to the recent FTA's Keep Britain Trading event in Westminster. (Anyone would think the Department for Exiting the EU might have something to hide.)
Normally, notes would be sufficient, but with the UK government's tendency currently to obfuscate its Brexit 'policy', it seemed sensible to get the actual text.
Not least, in fact, because FTA deputy chief executive James Hookham said, rather drily, after the speech: "That was one of the most comprehensive statements I've heard from the government.
"And we got nearly 15 minutes of his time," he added, as Mr Walker raced out of the side door – before the industry discussions on Brexit began, which, you might think, would be helpful to hear.
And yes, the speech made several commitments – using the word "commitment" in the loosest possible way, of course.
So the terms of the implementation period are agreed, and market access will continue on current terms up to December 2020, including the free movement of people, vehicles and goods.
So the 14% of HGV drivers, 12% of van drivers and 25% of warehouse workers in the UK who are EU nationals will continue to enjoy the same rights.
This, he said, would "give you, and businesses like yours right across Europe, the time to prepare for this single change".
('Single' apparently meaning that companies would only have "to make one set of changes as we agree our new trading relationship with the European Union".)
That point, however, was rather neatly dismissed by most speakers, who said two years was nowhere near long enough, and that it would not be "one set of changes" – but myriad challenges.
But of course the kicker to the transition period promise of "no change" is that, while the terms of the period may be agreed, the transition period itself has not been. This will be "finalised in October through the withdrawal agreement".
Negotiations on that continued yesterday. But, as the EU has said, the transition period agreement rests on the outcome of the "Irish problem" – something not mentioned in Mr Walker's speech. And with no resolution on that, there can be no deal.
European Commission president Jean-Claude Juncker, acknowledging that the EU is preparing for a "no deal" scenario, said today: "I wouldn't like us to be in a situation where the last remaining problem would be the Irish problem. This has to be in the package."
And that has to be decided and agreed in October – and there is currently nothing realistic on the table. So Mr Walker's promise of a smooth transition, in which nothing changes, is rather baseless right now.
He then went on to talk beyond the transition period (or March next year, of course, depending on how the negotiations go).
The Customs solutions, he said, must allow for "trade in goods and services that is as frictionless as possible; the ability to strike trade deals around the world; and no return to a hard border between Northern Ireland and Ireland".
Precisely what we have now, in fact.
He made mention of membership of the Common Transit Convention, a "tariff- and quota-free trade", a mutual recognition of licences, as well as the Haulage Permits and Trailer Registration Bill, "to provide the basis for UK hauliers to access EU markets once we leave". The government has set up a Border Delivery Group to examine all transport modes.
All the answers to these issues will, apparently, be set out in the famous white paper to be published next month.
But all of this is irrelevant for now. It's weasel words until the "huge and serious divergence … on Ireland and Northern Ireland" is sorted.
In a statement, which apparently took the 27 member states just a minute to agree, they said: "The European Council expresses its concern that no substantial progress has yet been achieved on agreeing a backstop solution for Ireland/Northern Ireland.
"The European Council renews its call upon member states, union institutions and all stakeholders to step up their work on preparedness at all levels and for all outcomes."
That, however, was not in Mr Walker's speech. "All outcomes" was reduced to: "We listened to your call for certainty and we have delivered on it".
No doubt, that's exactly how you are feeling too.
(If you know who Danny Dyer is, you might want to see this 40-second clip from a UK TV show and the "unlikely remainer icon". As The Guardian puts it: "he has a refreshingly lucid analysis of the Brexit negotiations".)