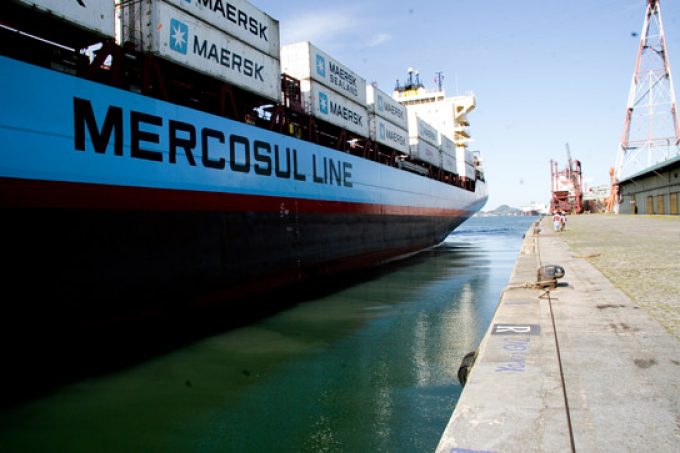 CMA CGM is to acquire Maersk's Brazilian shipping line subsidiary, Mercosul, as it looks to expand its South American business.
The deal is also crucial for Maersk, which needs to dispose of Mercosul before it can go ahead with its acquisition of Germany's Latin America specialist carrier, Hamburg Sud.
In addition to operating deepsea services connecting Latin America with Europe, North America and Asia, Hamburg Sud also owns Brazilian cabotage carrier Alianca, and industry analyst Alphaliner today suggested that, together, Alianca and Mercosul would be too strong in Brazil's domestic shipping market for the authorities.
"Maersk Line had to sell Mercosul Line as a concession to obtain approval from Brazil's antitrust regulator, Conselho Administrativo de Defesa Econômica (Administrative Council for Economic Defense or CADE), for its planned takeover of Hamburg Süd," it said.
"The acquisition had raised competition issues in the Brazilian cabotage trade, as Mercosul and Hamburg Süd's Brazilian offshoot, Aliança di Navegaçao, would together control close to 80% of the cabotage container trade, leaving Brazilian carrier Log-In Logistica as the only other domestic Brazilian-flagged carrier of importance."
Shipping services carrying domestic cargo between Brazilian ports remain restricted under the country's cabotage laws – vessels have to be Brazilian-owned, -flagged and -crewed.
Mercosul operates four 2,500 teu vessels owned by Maersk, which will be transferred to CMA CGM as part of the deal. The company was launched in 1996 and purchased by Maersk 10 years later.
According to vesselsvalue.com, Aliança di Navegaçao also owns four containerships, ranging from 2,500 to 4,800 teu, while Log-In Logistica owns four 1,670-2,800 teu ships and is expecting a fifth to be delivered: the 2006-built 2,700 teu Arosia, acquired from German shipowner Peter Dohle last week for $10.2m.
The Mercosul sale to CMA CGM also remains subject to Brazilian regulatory approval as well as the closing of Maersk's Hamburg Süd acquisition, which is expected in the fourth quarter of this year.
However, the French carrier said the acquisition would allow CMA CGM to "strengthen its service offering to and South America, most notably in Brazil, a market with a strong potential for development, especially on cabotage and door-to-door services".
Chief executive Rodolphe Saade added: "The acquisition of Mercosul represents a milestone in CMA CGM's development strategy in South America. It is a well-managed company and we will leverage this platform to expand our footprint and service offerings to and from Latin America, seizing opportunities linked to the high growth prospects in this region.
"As a result, CMA CGM will be able to propose complete door-to-door services continue providing best-in-class services to its customers."
The purchase price was not disclosed, but Maersk said Mercosul revenue was $128m last year and "offers strong profitability". It employs 92 land-based and 160 sea-going staff.
Maersk chief operating officer Sporen Toft said: "Mercosul is a highly respected and well-run company with an excellent fleet and customer value proposition. Its dedicated talents are well regarded both internally and externally. CMA CGM is a good fit for Mercosul and we are confident that they will continue to develop the company."
It will represent CMA CGM's 12th liner acquisition since the 1996 merger when CMA bought France's state-owned CGM.