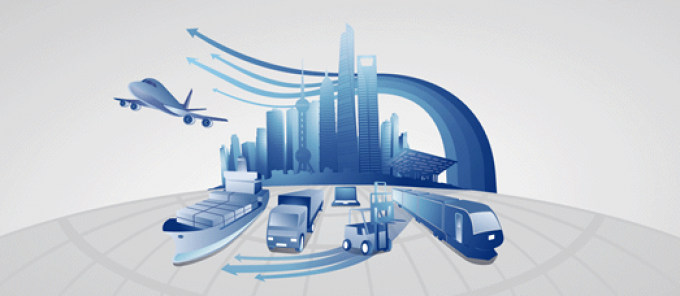 China's plan to develop a "one belt, one road" (OBOR) transport network should be understood in the context of the country's strategic geopolitical objectives rather than simply providing the infrastructure for its exports, delegates at this week's TOC Container Supply Chain conference heard today.
Veteran transport consultant Hercules Haralambides, president of Haralambides & Associates, that while "the century of Eurasia is coming", the OBOR policy was part of a wider strategy to solidify China's presence at key nodes in global supply chains.
He said: "There are investments in the Australian port of Darwin, as well as the Nicaragua canal, which despite financing difficulties is still on the table, and so I see the OBOR becoming a global 'around-the-world' policy that will sit in competition with the Transpacific Trade Partnership (TTP)."
He said the Chinese authorities had conceived OBOR as "a $1trn idea which they believe will have an economic multiplier of 2.5".
Both Prof Haralambides and fellow speaker Olaf Merk, administrator of ports and shipping at the OECD's International Transport Forum, emphasised that the traditional GDP-trade growth multiplier of 1:2.5 had declined to a little over 1:1 since the the onset of recession in 2009.
Prof Haramblides said the two European ports Chinese authorities were focusing on were Piraeus, where Chinese terminal operator Cosco Pacific now has the concession to manage container operations, and the Italian gateway of Venice.
"Venice is important because it has good rail connections with North Europe as well as a proximity to the logistics parks around the industrial centre of Turin. In Venice, they are looking at developing a €1bn offshore container terminal designed by Royal Haskoning. The Chinese have said that they would fund €750m of this if the Italian government funds the remaining 25%.
"In Piraeus, the fact that Cosco Pacific has taken control of the port means that the Ocean Alliance will come there."
He added: "You should also look at Port Said – the Chinese are taking a great interest in east Port Said because they see Suez as an alternative to Panama. The picture is that the Mediterranean and Suez are becoming more important vis-à-vis serving the US east coast, which can possibly be done better from there than via Panama,
"This is not just about transport investment, but should also be seen in the context geopolitics and strategic objectives."
Mr Merk added that Chinese port investments were inherently linked with the country's wider policy, regardless of the actual organisation making the investments.
He said: "It is important to realise that a lot of the Chinese terminal operators are acting as an arm of the Chinese government, so it really is a case of geopolitics acting in concert with supply chains.
"The other point is, how does this investment align with the EEU's TEN-T programme?
"The orientation of the two are very different – EU policies are primarily internal, about linking the continent's transport networks, whereas for the Chinese, it is about entry points to the wider market."