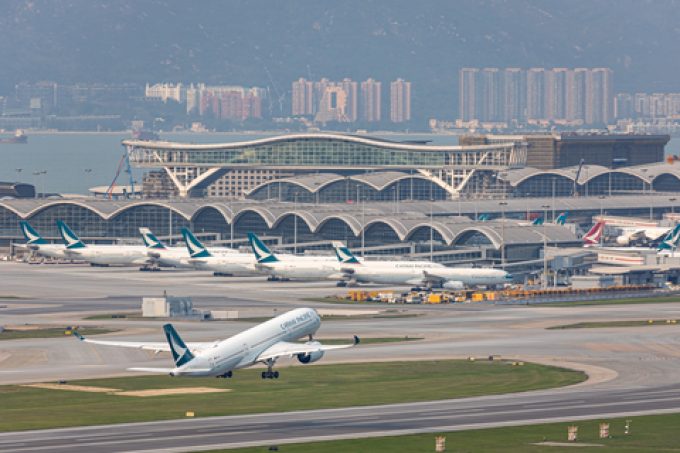 With more Covid restrictions easing in Hong Kong, Cathay Pacific is ramping-up its freighter flights and focus on sea-air cargo.
Yesterday, the city government relaxed some testing requirements for inbound passengers, providing a glimmer of hope for tourism and increased belly capacity for air cargo.
The latest figures from Hong Kong International Airport (HKIA), for example, show a 2.8% year-on-year drop in cargo throughput in April, to 375,000 tonnes.
HKIA noted: "The decline in cargo throughput was mainly attributed to 6% year-on-year decreases in both imports and exports, due to insufficient cargo capacity."
HNA-backed Hong Kong Airlines (HKA) has also been struggling. Earlier this month, the carrier reportedly said the Covid-lockdowns in China had weakened demand for airfreight, leading the cash-strapped airline to ask its pilots to go on leave.
One of HKA's cargo flights to Sydney was cut from a daily service to twice a week, according to Bloomberg, because "cargo is stuck in Shanghai".
Nevertheless, operating conditions appear to be improving for Cathay Pacific. Frosti Lau, GM for cargo service delivery, said today: "We are actively adding back as many freighter services as possible.
"Already this month the number of transpacific freighter flights has gone up from nine to 15 a week, with an additional service to Europe. There will also be extra capacity drip-feeding in from the passenger fleet as services start to reactivate over the year."
However, Mr Lau noted, while cargo capacity was increasing, the market recovery was "not without its challenges".
He explained: "The lockdowns are starting to ease in Shanghai, but there has been an impact on both manufacturing output and the supply chain. At one point, Cathay Pacific was the sole airline (bar Chinese mainland carriers) operating at Pudong."
Another challenge has been the restrictions on cross-border trucking between Hong Kong and the mainland. Mr Lau said Cathay had run a mulitmodal trial to transport cargo from Dongguan, via barge, to HKIA's intermodal cargo ferry pier, which "helped keep some cargo moving during the embargo".
Indeed, Cathay described the trial as a sea-air cargo "rescue" for Hong Kong, adding: "With trucks concentrating on delivering necessities to Hong Kong, there were fewer available to deliver cargo to the airport. So some enterprising agents diverted goods onto shipping containers.
"The aim is to enable a full launch of the export facility from September that will be compliant with Hong Kong's air cargo security regulations. And while the pilot scheme has focused on exports, the process of using the logistics park will be reversible, and able to handle imports too."