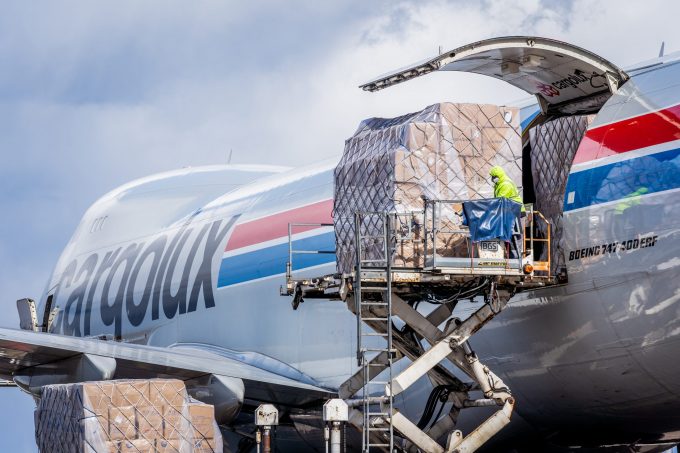 Cargolux is staying tight-lipped over its potential fleet orders, after disclosing at the Farnborough Air Show that it has picked its workhorse for the future: the 777-8F.
Airbus will no doubt be hugely disappointed after its big efforts in trying to lure Cargolux with its A350 freighter, but Richard Forson, Cargolux chief executive, was careful not to upset the European manufacturer and declined to be drawn specifically on why he'd bet on Boeing.
In a response to The Loadstar, he said simply that the 777-8F was the "preferred solution … taking all relevant factors into account for a long-haul widebody freighter which meets the requirement of Cargolux for the future".
He did note that both aircraft types had met Cargolux's CO2 sustainability requirements – but added "we also factor other emissions into account besides only CO2".
The carrier is also keeping its order plans close to its chest, just noting that "the contract documentation is in place".
The first retirements from its current 747F fleet are due to begin in 2026, although Mr Forson said the carrier had "the ability to extend if required". New-generation 777Fs are unlikely to be delivered before 2027 – although Airbus had made some noises to the carrier about available A350Fs by 2025.
Cargolux is unlikely to opt for a bumper order of aircraft. Mr Forson told The Loadstar in May he was fearful of overcapacity.
"Growing the fleet may be part of the decision, but it's easy to grow when there is a lack of capacity. But when the decline comes, for economic or other reasons, there will be a huge amount of surplus capacity, and that will have a significant impact on the business environment. It has happened before.
"The importance of cargo has resurged again, so there has been investment in capacity. But I don't believe there will be a lack of capacity in the medium or long term," Mr Forson added, citing inflation, interest rates and potential lack of consumer demand.
"I want to be the size of airline that always remains relevant to forwarders, so Cargolux will always be in the top tier."
As a long-term customer of Boeing, Cargolux is likely to have preferred not to change lanes, and introducing a new Boeing aircraft rather than a completely new type may have had an influence on the decision-making, as hinted by Boeing Commercial Airplanes CEO Stan Deal.
"With the selection of our newest freighter as its preferred solution, Cargolux continues its long and enduring history with Boeing, integrating the 777-8F seamlessly into the airline's all-747 cargo operations."