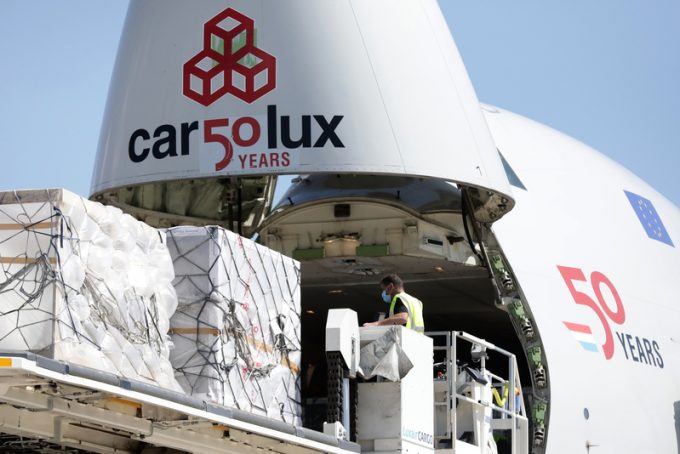 Cargolux is at a crossroads. It has a big decision to make, and fairly fast. In 2026, the first of its 16  747-400s will begin to retire – four are already more than 20 years old.
But new-generation 777Fs won't be delivered until 2027, at the earliest, although Airbus – said to be courting Cargolux feverishly – may have A350Fs available from 2025. However, there is talk that the certification process, following Boeing's various 737 disasters, is becoming more robust and slower.
Cargolux CEO Richard Forson is not a man to be forced into a decision.
And, interestingly, he is not in the camp – currently characterised by Lufthansa Cargo – of significantly expanding capacity from Cargolux's fleet of 30 747Fs. Unlike other newly rich carriers, the money is not burning a hole in his pocket.
"Growing the fleet may be part of the decision, but it's easy to grow when there is a lack of capacity. But when the decline comes, for economic or other reasons, there will be a huge amount of surplus capacity, and that will have a significant impact on the business environment. It has happened before."
He cited the woes of 2014, when combination carriers had to make a decision – to freighter or not to freighter. Cathay and Lufthansa decided to stick, others such as IAG Cargo either cut completely or significantly reduced their cargo fleets (IAG at the time was also run by a cautious accountant).
"The importance of cargo has resurged again, so there has been investment in capacity. But I don't believe there will be a lack of capacity in the medium or long term," Mr Forson added, citing inflation, interest rates and potential lack of consumer demand.
"I want to be the size of airline that always remains relevant to forwarders, so Cargolux will always be in the top tier."
Even the exit of AirBridgeCargo, with its 16-strong fleet of 747Fs, has not tempted him to increase his fleet size.
"There has been no shortage of players coming in to replace AirBridgeCargo's capacity," he said. "It caused a further capacity crunch, but others have replaced that capacity, such as with passenger aircraft."
He acknowledged that the exemption for cargo on seats would end in July, but pointed out that passenger bellies ,of course, would still carry cargo, "and if rates remain where they are, those aircraft will remain in the market".
He added that the passenger market itself was also expanding again, bringing in more bellies.
"Everyone is expecting a bumper summer for passengers."
So Cargolux is not jumping to fill the orderbooks – but it does need to make a decision on fleet replacement. And when it does, whichever way it turns, it will lose one of its key benefits: a single fleet type.
"A one-type fleet has been one of our biggest advantages. Having just 747s has given us extreme flexibility – we can switch aircraft easily. But with a mixed fleet, we'll need to break down pallets to switch aircraft, and that will bring an additional layer of complexity to our operations, and will waste time.
"But, going forward, we will need to have a mixed fleet type for 10 to 15 years."
And probably longer. Cargolux's youngest 747-8F is not even six years old, and the lack of new nose-loading aircraft on the market is worrying some customers.
"Some shippers, especially in the oil and gas industry, are already concerned over the lack of 747s. I think it's going to become a niche aircraft, like the AN-124, for loads into the future. So I'd like to keep several for that niche market," Mr Forson said.
He won't be drawn on whether he is favouring Airbus or Boeing, but acknowledged the airline needed a "bridging solution".
Part of his tough decision is sustainability, which Mr Forson believes could affect financing, as well as the planet.
"Temperatures can't increase by more than 1.5 degrees. But there is a significant cost to that. Who is going to pay?"
Unlike many so-called leading carriers, Cargolux has been buying sustainable aviation fuel (SAF) since 2021, and also recently invested $100m into future technologies – but a solution is a long way off. Production of SAF, which is expensive, is suffering from a lack of feedstock – and Cargolux is suffering from larger airlines grabbing what is available.
"Everyone is chasing what is on the spot market. We are looking at long-term contracts, but you expose yourself to prices in the future."
Power-to-liquid ("of interest") requires a lot of electricity. Hydrogen, he noted, would only be good for medium or short-haul passenger flights, not long-haul widebody freighters – and the technology is not there anyway.
So the selection of new aircraft types – and their emissions efficiency – is critical.
"The fleet decision is of extreme importance. And we can't change mid-stream. Whatever selection I make now is what the airline will be flying for the next 50 years. I won't jump into it until I am sure."
So yes, it's a big decision, and a crossroads for Cargolux. But Mr Forson is undaunted.
"Those tough decisions are what I get paid for. It's all part of the job."
Yesterday: Cargolux – running a freighter airline is not for the faint-hearted