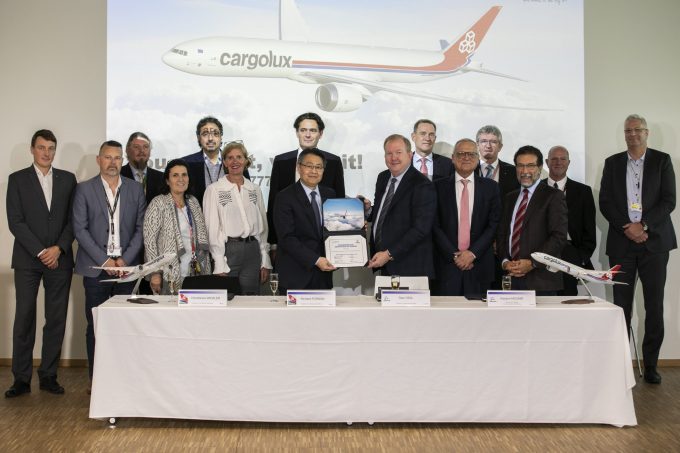 The long-awaited aircraft order from Cargolux has finally been revealed: it is to acquire 10 777-8Fs, with options on six more.
The freighter operator, which has always fielded a 747 fleet, announced at the Farnborough Air Show this year that it would stick to Boeing, eschewing Airbus advances for the A350.
But it finally announced its order following a signing ceremony yesterday. It was previously listed as unidentified on Boeing's orders & deliveries website.
"The agreement we signed today will consolidate Cargolux's position as a global leader of air freight services. Replacing our ageing fleet of 747-400 freighters with the latest technology and fuel-efficient 777-8 freighter model will contribute to our long-term sustainability programme while continuing to offer our customers the tailored service they expect," said Richard Forson, Cargolux president & CEO.
Cargolux has 30 747-8 and 747-400 freighters in service, but the first retirements are due to begin in 2026, and with the ending of 747 production (Atlas Air last week received its second of the four last-ever 747s to be made), it has been forced to widen its fleet to new aircraft types, although new-generation 777Fs are unlikely to be delivered before 2027.
While Cargolux will ultimately need to order more aircraft as the 747s are phased out, Mr Forson said earlier this year he was fearful of overcapacity.
"Growing the fleet may be part of the decision, but it's easy to grow when there is a lack of capacity. But when the decline comes, for economic or other reasons, there will be a huge amount of surplus capacity, and that will have a significant impact on the business environment. It has happened before.
"I don't believe there will be a lack of capacity in the medium or long term."
Speaking to The Loadstar in July, Mr Forson would not be drawn on why he opted for Boeing rather than Airbus, but sustainability – and no doubt price for the former CFO – is key. Cargolux said today its choice "underlined its commitment to establishing long-term sustainability".
"The 777-8 freighter offers reduced emissions, noise, as well as the lowest fuel use and operating costs per tonne of any large freighter."
The new freighter was launched in January, and now has more than 50 orders. Boeing claims it has "nearly identical payload and range capabilities as the 747-400 freighter while providing 30% better fuel efficiency and emissions and 25% better operating costs per tonne. It is the ideal choice as operators replace aging freighters later this decade."
"Equally important, the 777-8F operates with a noise footprint up to 60% smaller than its predecessors, significantly minimizing noise emissions around airport communities," said Stan Deal, CEO of Boeing Commercial Airplanes.