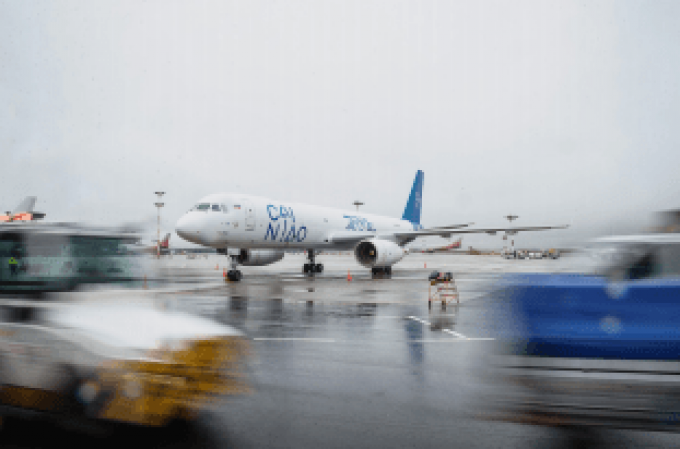 Cainiao is hoping to boost transit times from China to its burgeoning Middle East customer base via a new service with Saudia Cargo.
The Middle East is one of parent Alibaba's logistics network's top five international markets, and is growing at 20% a year, according to Cainiao.
But transit times, according to a tracking website, for Cainiao deliveries to Saudi Arabia are more than 24 days – a far cry from the 72-hours promised by Alibaba in 2015.
But this new service, which sees Saudia Cargo fly a freighter between Hong Kong, Riyadh and Liege five times a week, should more than halve transit times, to as fast as 10 days.
Cainiao said the partnership would help form a "sky bridge" linking Asia, Europe and the Middle East to cater to growing e-commerce demand, which in the Middle East focuses on electronic goods, apparel and household products.
It appears Cainiao seeks a low annual rate from its logistics suppliers: last month Cainiao launched a shipment booking service for air and sea, covering 200 hubs and said its cross-border port-to-port fee would be 30% to 40% lower than the average market rate. A spokesperson told The Loadstar the lower rate was achievable by working "closely with our logistics partners … to adopt annual pricing".
It explained: "This will allow us to secure the most favourable shipping fees for our customers to avoid price fluctuations. This business model allows us to offer shipping fees that are 30-40% lower than the current market rate and will be a standard/regular business model for us."
Cainiao recently announced that its revenue in the fourth quarter – including December – grew 51% to €1.74bn, "primarily due to the increase in volume of orders fulfilled from our fast-growing cross-border and international commerce retail businesses," it said.
It deployed more than 20 international cargo flights in December for AliExpress, cutting average delivery times by 3.5 days, Cainiao said.
It added that it was continuing to expand its network with deeper integration with logistics partners. In December, it launched an open tender for its logistics services in 2021 in key markets: it is not clear if Saudia Cargo participated in this process.
Saudia Cargo said the deal with Cainiao helped cement Saudi Arabia's aim of becoming a "modern global logistics hub".
William Xiong, Cainiao chief strategist and general manager of export logistics, said: "The partnership with Saudia Cargo is key to expanding our global logistics network to improve export efficiency. With the launch of new flights, both merchants and customers in China, Saudi Arabia and Europe will benefit from a better logistics experience."
Saudia has a fleet of four 777 and three 747-400 freighters.