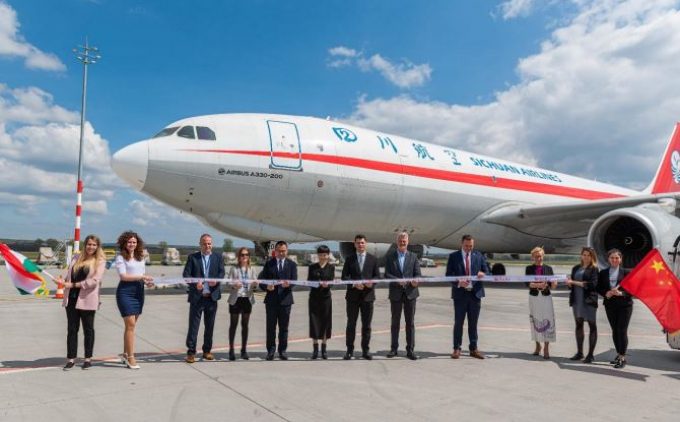 PRESS RELEASE
Budapest Airport welcomed a new airline to its cargo carrier roll call yesterday as the
Hungarian gateway celebrated the arrival of Sichuan Airlines. Inaugurating a route from its
base in Chengdu, the regional airline of Western China will operate a three times weekly
service facilitated by its fleet of A330-300 converted freighters.
Becoming the regional cargo operational hub in Central Eastern Europe (CEE) for its latest
new airline partner sees Budapest now operates 60 full freighter flights weekly with 14 cargo
carriers. The important expansion of the airport's cargo connectivity represents Hungary's
capital city's first regular cargo connection to Western China and the indication of significant
growth between the two regions. In addition to the boost of general cargo flows between the
CEE and China, Budapest has an elevated focus on e-commerce with the new flight capacities
bringing high value for both segments on the operation.
Budapest Airport witnessed another record year for cargo volume in 2022, handling 194,000
tonnes which represented a yearly 5.8% increase. Continuing its long-term cargo success
story, the airport has recorded 16,855 tonnes per month so far this year which denotes a 4.3%
increase when compared to last year's monthly average, an extraordinary 49.3% higher than in
March 2019 (pre-COVID).
René Droese, Chief Development Officer, Budapest Airport, comments: "Budapest Airport
remains highly committed to the continuation of its airfreight business development. As a
result of the intense common work and excellent collaboration with our cargo partners and
with our cargo community, the airport's role as air cargo gateway in CEE, especially towards
Asia including China, is growing fast, and we are facing an increasing demand for new cargo
routes and more capacity on the existing services. A very warm welcome to Sichuan Airlines
full-freighter operations at Budapest, we wish lots of success to it in the future!"
"The new aerial connection supports the success of the air Silk Road, as part of the Belt and
Road initiative, further strengthening the excellent trade relationship between Hungary and
China," emphasised Peter Xu, Cargo Station Manager, Sichuan Airlines. He added: "Sichuan
Airlines' cargo network offers integrated, customised and professional logistics services for
both Hungarian and Chinese companies, and the new flight will surely become an important
logistics channel for the export of high-quality Hungarian goods to Chinese cities and vice
versa."
Supporting the future of Budapest's cargo evolution, the airport has invested another €30m in
the expansion of BUD Cargo City, increasing the airport's annual cargo capacity to 300,000
tonnes. With works set to be completed by Q4 this year, the transformation of the airport's
facilities will include an additional 6,500m² handling warehouse with offices and supporting
amenities, while the apron will see the addition of two further Code F stands, taking the total
to four.