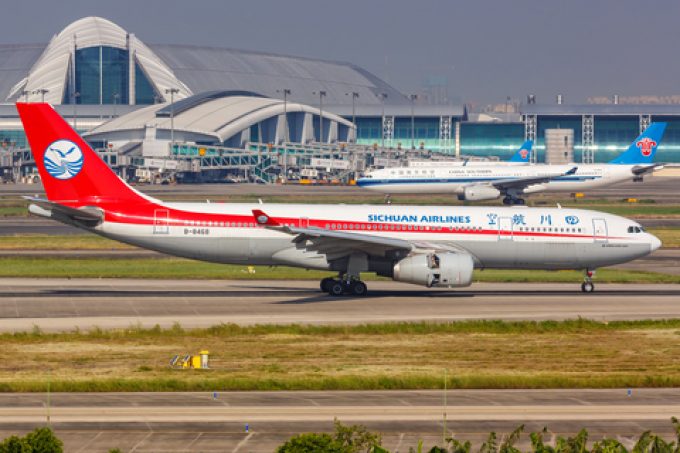 China's lockdowns are playing havoc with its airline industry, with three of its four main regional airlines reportedly close to insolvency, including freighter operator Sichuan Airlines.
News site 163.com looked at the asset-to-liability ratios of several Chinese airlines and found Sichuan was at 85.8%. It is thought to have lost CNY9bn ($1.3bn) since Covid struck, but half of that was in the first six months of this year.
"It can be surmised that Sichuan Airlines lacks the means to pay its debts and is technically insolvent," noted CH Aviation.
The Chengdu-based carrier operates three A330-200 freighters, to Brussels, India, north Asia and South-east Asia, according to CH Aviation. But it also has two EFW-converted A330-300Fs on their way, one delivering this year and one in the middle of next year, and is continuing to grow its passenger fleet, despite its deepening financial problems.
The freight market out of China is currently soft, with manufacturing in decline for a third consecutive month. The TAC Index saw airfreight rates out of China fall in the week to 31 October, down 6.8% to Europe and down 5.6% to the US, to rates not seen since September 2021 and June 2021, respectively. There was a minor jump in rates on both routes on the week to 24 October, but the overall view is of a continuing rate fall.
Maersk, which is now offering commentary on the airfreight market, said yesterday the declines came "as the airfreight market is facing an uncertain outlook, amid flat export demand in September, due to rising interest rates and energy prices and high inventory levels in destination markets. But carriers this year have not seen the [same] level of cancellations as last year for China's Golden Week holiday".
In its latest market forecast, Maersk suggests retail shipments will fall.
"Overstocking, supply chain challenges and falls in demand are expected to hit shipments of retail lifestyle products to the US, as consumers there become more price-conscious. While US consumers will likely spend less in the 2022 holiday season, volumes of retail-lifestyle products from Asia are expected to drop 19% in September-November, according to our forecasts from Asia-Pacific's top 20 SCM customers."
It added that the easing of rules in Hong Kong and Japan would see further air capacity rises and "impact the balance between cargo demand and aircraft capacity, especially in North Asia". However, it has "proactively secured capacity on major airfreight trade lanes to ensure limited peak season disruption".
Cathay Pacific, meanwhile, said yesterday it had restored passenger flights to Heathrow and would increase frequencies this month and next.
"As we ramp-up capacity and enter peak freight periods, the overall market is expected to slow down slightly from earlier, but we will continue to focus on shipments that require special handling," said Jansen Stafford, Cathay's regional manager cargo for Europe.
"Pharma and perishables remain strong and there is good demand for computer parts into the Chinese mainland. Otherwise, the Beaujolais Nouveau season is upon us, although available capacity will hit tonnages this year.
He added that: "In the European market, demand is not necessarily related to a particular port; demand is European demand that you move by truck to where you have the space. So Amsterdam and Frankfurt continue to support pharma shipments from Brussels, for example."