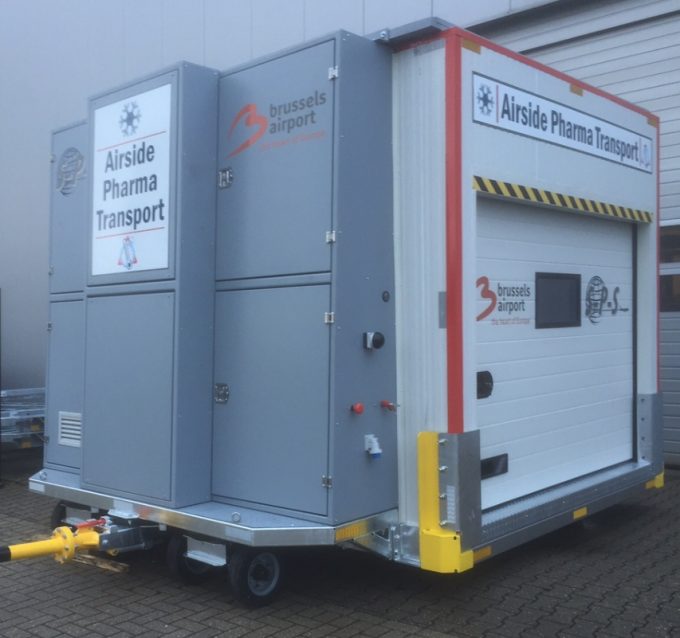 Brussels Airport (BRU) has taken another step to reinforce its ambition to be the preferred hub for pharma shipments.
Yesterday, confirming its position as one of Europe's more innovative companies, it unveiled its huge "airside pharma transporter" at TIACA's Air Cargo Forum in Paris.
Currently storing beer, it was developed in collaboration with the BRU Cargo community and not only innovates through design, but also with ownership and its booking facility.
The community wanted pharma shipments to be actively temperature-controlled throughout transportation, and took its requirements to designer and manufacturer SPS. They included real-time location tracking, a temperature audit trail, no extra handling, easy maintenance, a low-operating cost, a common-use equipment pool, a "correct" ROI and no over-engineering.
SPS developed the transporter, powered by solar panels and batteries, and Brussels Airport now owns four, which can be booked by customers via the BRU Cloud.
Demand is already high and the airport is considering ordering more.
Several airports and airlines already have temperature-controlled dollies available, although they tend to be passive. HACTL acquired two about 18 months ago, and carriers such as Qatar Airways have temperature-controlled vehicles for the tarmac. More rarely, these new transporters, also unique in size terms, were paid for by an airport rather than handler or airline.
"HACTL made the investment – and they were expensive," said Mark Whitehead, CEO. "Handling pharmaceuticals isn't difficult, but we do get extremes of temperature in Hong Kong."
Airports have traditionally left investment in equipment to companies which operate there. Frankfurt Airport did break with this rule to offer cool dollies, but was said to have found uptake slow, as many customers didn't know they existed.
This will not be the case at Brussels, insists the airport.
"The dolly was the missing link in our supply chain," said Alban Francois, vice president global cargo for Brussels Airlines. "We had everything under control in the warehouse; we had everything under control in the aircraft. Now we can guarantee 100% end-to-end temperature control."
The concept of the transporter is owned by manufacturer SPS, while the common use booking platform is owned by Brussels Airport. Both transporter and platform may be made available to other companies, said Nathan De Valck, Brussels Airport's product development manager. "It makes sense to do them as a package," he added.
Several companies told The Loadstar on the sidelines of the event that they would consider acquiring the transporter, but the price had not been announced.
Brussels' constant progress by "forming its pharma community, going through CEIV and designing new equipment" is certainly boosting its profile. While several other rival airports have dismissed some of the moves as simply "good marketing", few doubt the drive of Brussels Airport cargo chief Steven Polmans.
"Steven Polmans came in and we realised BRU had a vision," said Philip Dekker, regional director at Expeditors. "That vision became a goal, the goal became a plan, the plan became reality.
"You've done more than an excellent job. We are extremely proud to have been part of this success."
Leandro Moreira, director for Brinks Life Sciences, added: "The industry has been asking for a solution to avoid product spoilage on the tarmac. This will help protect the integrity of the pharma product."
It will be interesting to see how quickly other airports follow suit.