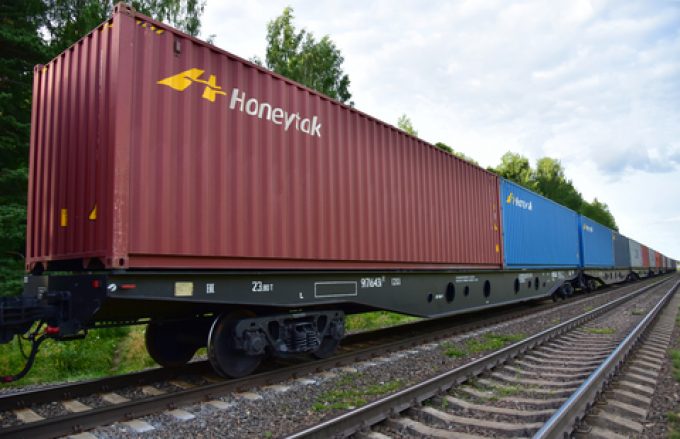 The China-Europe rail freight network is suffering congestion and delays from two broken cranes on the Kazakhstan border with China.
According to New Silk Road Intermodal (NSRI), two out of three cranes operating at the Altynkol transhipment terminal in Khorgos have broken down, prompting widespread delays and schedule changes.
NSRI said: "The cranes are under repair and, accordingly, two-to-three batches of trains cannot be loaded on time every day. The transport schedules for November will be suspended."
CEO Jacky Yan added: "China Railway has cut slots for the second half of October to avoid more severe delays. The cranes are supposed to be repaired by mid-month and then the delays will be reduced gradually."
For now however, NSRI said China Railway was holding 23 trains at Alashankou, 33 at Khorgos, 13 at Erenhot, 16 at Manzhouli, and one at Suifenhe, which "may lead to massive congestion."
Indeed, Alice Tang, China-Europe land transport planner at ITS Cargo, told The Loadstar: "Since Altynkol-Khorgos can't handle as many trains, companies are redirecting them to other border crossings, which has caused more delays."
There is also congestion elsewhere on the network, Ms Tang said. The middle corridor has seen surging volumes since the Russia-Ukraine war started, but the congestion is "so great", countries along the route have start digitising customs clearance to speed up transit times.
Another congestion hot spot is the Alashankou border crossing. According to Dave Li, branch manager at M&M Militzer & Münch China, there is "serious congestion, and the warehouse under customs supervision is now overstocked." As a result, he said, the number of outbound trucks queuing along the highway to reach the terminal "is as high as 200 day".
China-Europe rail volumes had been recovering since the initial impact of the Russia-Ukraine war, with throughput for the first eight months of the year up 6%, to 1.02m teu.