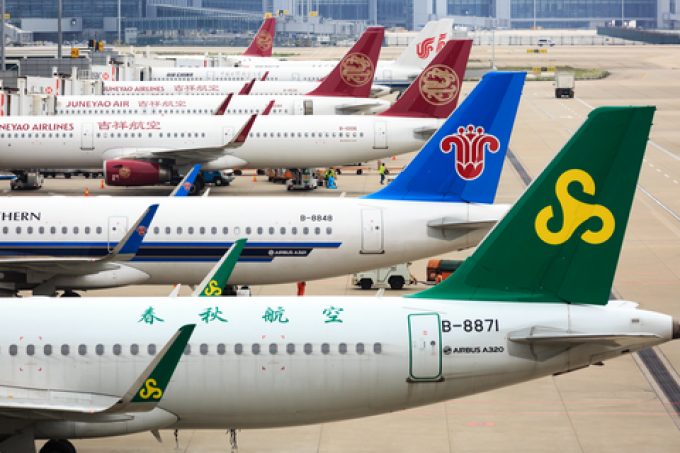 The coronavirus outbreak has given the air cargo sector a shake-up, as more airlines pull back services to and from China.
Lufthansa has now suspended all flights to China until 9 February, following a similar move by British Airways, while United Airlines said it would reduce services alongside a drop in demand.
Cathay Pacific announced it would progressively halve the capacity of mainland China passenger flights, starting today, but said freighter operations would be unaffected.
Other airlines that have reportedly cancelled or suspended flights include American Airlines, Delta, Air China, China Airlines, Air Seoul, Lion Air, Air India, Finnair, Jetstar Asia, Asiana Airlines, Korean Air, Eva Air, JAL, KLM and Air Canada.
Stephan Haltmayer chief executive of Germany-based freight forwarder Quick Cargo Service (QCS), said the virus outbreak had already had a "big impact" on business.
"Extending Chinese New Year holiday until 10 February has shaken the market up," he told The Loadstar. "The backlogs are enormous and the space demand after 10 February will be a challenge. Rates are already going high."
The national lunar new year holiday has been extended by the government to 2 February, but provinces that are home to major cities such as Shanghai, Beijing and Guangzhou have told workers to stay home for another week.
Hubei province, the epicentre of the outbreak, has delayed resumption of businesses until 14 February.
"The business to China is close to zero at the moment because customers don't want to pay storage in China and most carriers have stopped their flights," Mr Haltmayer said. "Nobody will pick up the shipments as no one is working and transport cannot be offered on the receiving side to the consignees."
The number of coronavirus cases in China had increased to 7,771 this morning, with the death toll at 138.
The lockdown of Wuhan and 16 other cities has trapped 50 million people in the largest disease control measures ever seen, according to AP.
Supply chain risk company Resilience360 said the regional lockdown meant "severe disruptions to inbound and outbound air cargo shipments, trucking and rail cargo services, as well as heavy port congestion for vessels along the Yangtze river".
A spokesperson for DHL said its pick-up and delivery services in Hubei province were suspended, but Sunny Ho, executive director of the Hong Kong Shippers' Council, reckoned the disruption to air cargo would not be substantial.
"The virus will not spread with cargo, and therefore pure cargo transport should not be disrupted," said Mr Ho. "However, quite a number of passenger flights have been cancelled, so cargo usually carried in the bellyhold will have to find alternatives."
In Australia, the Freight & Trade Alliance said: "In terms of airfreight, members have reported that they have experienced significant cancellations this week with capacity anticipated to be impacted with reporting that airlines will start reducing services."
Meanwhile, the air cargo industry is also leading the efforts to get much-needed aid into China. For example, FedEx has flown at least two shipments of medical equipment into Guangzhou. And, Mr Haltmayer said, QCS had offered to fly charity shipments to China for free on Hainan Airlines flights, with customs and VAT exceptions offered by Germany and China.
"If anyone has customers in Germany wanting to export first aid equipment as a donation can move the cargo via QCS ex-Berlin and Frankfurt," he said.