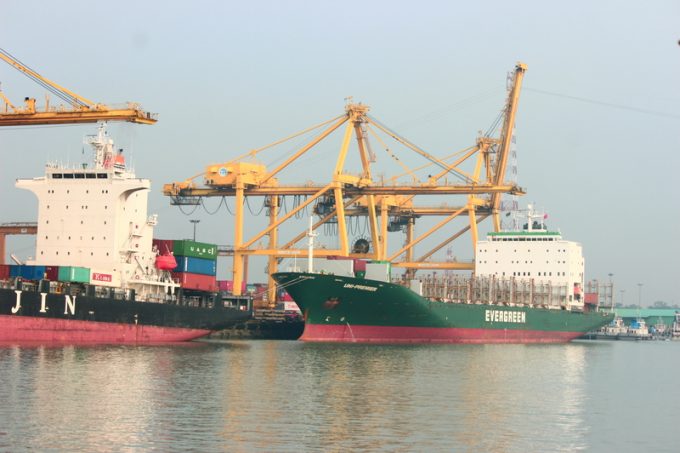 Shippers in Bangladesh sending a 40ft container from Chittagong to the deepsea transhipment hubs of Colombo and Singapore must pay a $100 per  box bunker adjustment factor (BAF) low-sulphur surcharge.
"Some operators have been collecting the surcharge since December and some in January to adjust the fuel oil price hike," said Iqbal Hassan, general manager of local ship agency and customs brokerage QC Shipping.
He added that from Chittagong to Europe and the US, mainline operators were charging even more: $100-$150 per teu.
In line with the IMO's low-sulphur regulations that came into force at he beginning of the year, vessels started using fuel oil having a continent of 0.5% sulphur. With the regulation the market of low-sulphur fuel become volatile, its price of per tonne at one point hitting $811.
Major operators, including Maersk Line, have already announced a bunker adjustment surcharge of between $50 and $200 per 40ft from 1 March.
AP Møller-Maersk's managing director for South Asia, Steve Felder, said the surcharge would depend on the origin and destination.
Rashid Ali, general manager of Continental Traders, the local agent of China-based Cosco Shipping, acknowledged that most of the operators had already started implementing surcharges relating to low-sulphur fuel use.
"Ultimately end users will suffer, when goods carried in new freight start coming to market," said QC Shipping's Mr Hassan.
Former president of the Bangladesh Garment Manufacturers and Exporters Association (BGMEA) Siddiqur Rahman fears the freight hikes will hit the country's major industry.
"When cost goes up business is affected. The buyer will cut our price in one way or another," he told The Loadstar. Mr Rahman's factory is a major apparel producer, supplying leading brands like H&M, Zara, Walmart, Indian Terrain and Mango
Alamgir Hossain, an importer of Chinese goods, said prices of imported goods would go up significantly as a result of surcharges, adding: "High import cost will squeeze our profit."
Another factor forcing up costs is the absence of low-sulphur fuel oil to bunker vessels in Chittagong.
Bangladesh Petroleum Corporation (BPC), the country's sole supplier of fuel oil, has yet to start importing low-sulphur fuel oil and vessels deployed on the Chittagong-Colombo route are facing major problems, according to operators. From Colombo, the vessels need to go Singapore to bunker low-sulphur oil before departing for Chittagong.
Shippers and vessel operators fear Chittagong may be declared a "no bunker" port unless BPC starts supplying. This has put Bangladesh-flagged vessels, which are mainly bulk carriers, in danger of being detained in foreign ports if they fail to meet the IMO LFSO rules.