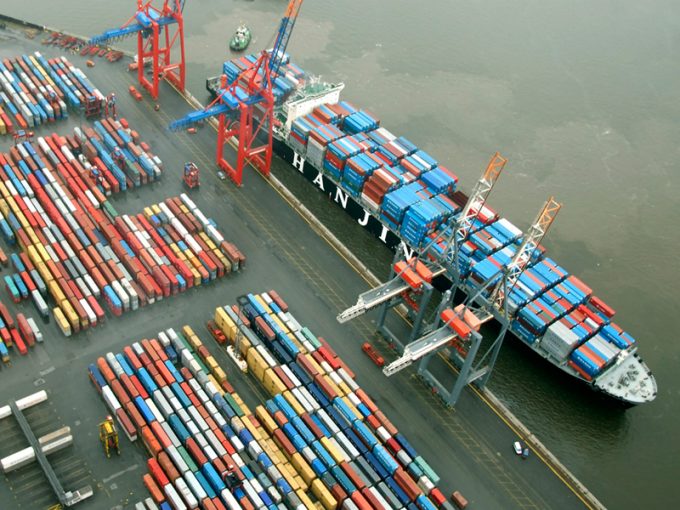 The port of Hamburg is continuing to lose ground to its North European container competitors, with another year-on-year decline in first-half results.
Throughput for the German port fell 2.7% on 2017 and, despite the port's best efforts to shrug off the drop, it finds itself lagging behind Antwerp and Rotterdam.
However, joint chief executive of marketing Axel Mattern pointed to Hamburg's position as "Europe's leading rail port" as a positive.
"Our share of loaded containers remained stable in a competitive field, and our [place] as a leading rail port was underlined by growth in railborne containers," said Mr Mattern.
"Against the background of the adjustment of the fairway on the Elbe, it is understandable that carriers utilise slots on mega-ships calling at Hamburg primarily for loaded boxes."
Some 4.3m teu was handled by the port, with the number of empties handled dropping by 15.6%. A statement from the port said this was responsible for 81% of the total decline.
Loaded box volumes remained relatively flat on 2017's performance, down just 0.6% to 3.8m teu, with Mr Mattern calling for final approval for the Elbe dredging.
"Unlike cargo bound for the local region and loaded boxes, transhipment cargo and empty containers are less tied to specific ports," he said. "We therefore hope that planning permission will be granted before the end of the year, and the fairway adjustment finally implemented after a wait of 17 years."
His focus on the positives seen in rail-borne throughput was underlined by the figures, the segment recording growth of 5.4% (at 1.2m teu) compared with 2017.
Even so, this has not been enough to offset the loss of volumes that have been switched to neighbouring ports like Antwerp and Rotterdam.
Antwerp has been the greatest beneficiary of Hamburg's failure to push through Elbe deepening, the Belgian port usurping it in the rankings and marching further ahead.
Last month, it announced record half-year results, with container volumes up 8.3% year on year to more than 5.5m teu, and May setting an all-time monthly record.
Port authority chief executive Jacques Vandermeiren said the strong performance was "good news" for the Belgian economy.
"The growth figures confirm our role as a leading world player and demonstrate the continuing attractiveness of the port," he said. "But they also confirm forecasts that we'll soon hit max capacity and we have well exceeded optimum utilisation for terminals below the locks, which can negatively impact efficiency.
"We will therefore continue to emphasise the importance of having additional and commercially useful container capacity below the locks."
Rotterdam also saw a "clear increase" in container volumes, up 6.2% year on year, noting that the port's regional market share had hit 31.2%.