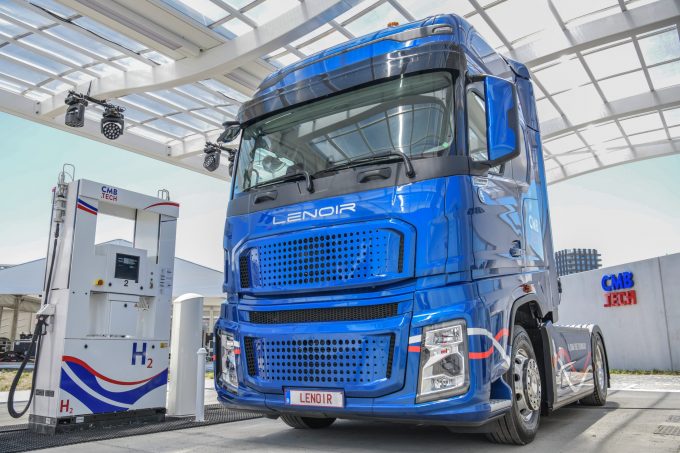 Antwerp Port and local shipping firm Compagnie Maritime Belge (CMB) has opened the first of a series of hydrogen filling stations to serve areas with industrial complexes, such as ports.
According to CMB CEO Alexander Saverys (pictured, inset), the fuel stations will serve various transport modes and it has plans to open further stations in Japan, three in the UK and one each in The Netherlands and France.
"The Antwerp fuel station is next to the water, behind the locks, and will provide hydrogen fuel for trucks, tugs, barges, buses and eventually trains," explained Mr Saverys.
However, CMB's claim that it had launched the first hydrogen/diesel dual-fuel truck, the Lenoir lorry – named after the Belgian engineer who built the first internal combustion engine powered by hydrogen – was under scrutiny following a similar announcement from the port of Los Angeles this week.
Port of Los Angeles, along with its partners, launched what it called "a new era of pollution-free goods movement" with the delivery of five hydrogen-powered fuel cell electric vehicles (FCEVs) and the opening of two hydrogen fuelling stations.
Whoever was first off the mark, however, is less important than the fact that the two ports' launches adds strength to the CMB.TECH view: "In the future ports will become hydrogen hotspots, because they have a large concentration of applications that are difficult to electrify.
"In addition, many ports will have access to hydrogen, either through large electrolysis plants or through imports," said Roy Campe, CTO of CMB.TECH.
The Lenoir trucks will operate with a 500km radius on hydrogen and a further 3,000km with diesel.
"The hydrogen fuel is contained in pressurised hydrogen bottles, at 350 bar, fitted to a frame behind the truck cabin, it takes about 15 minutes to refuel," said Mr Saverys.
Although these trucks have an efficiency of just 60%, the next generation of vehicles will increase their efficiency to 80% through fine tuning and other technical adjustments, added Mr Saverys.
According to CMB, the cheapest green hydrogen, which is hydrogen fuel manufactured using renewable energy, is around €5-6 per kg, "which is close to the price of diesel", explained Mr Saverys, but he expects the price to reduce to a much lower level.
Hydrogen fuel prices are expected to fall as the use of the fuel increases, which CMB said would be driven by its project in Antwerp.
"Using large industrial hubs which require large quantities of hydrogen, such as Antwerp, will provide the proof of concept," said Mr Saverys, who said that the same strategy would be applied in other energy port hubs in Kitakyushu and Tokuyama in Japan, and Aberdeen, Grimsby and Lowestoft in the UK.
The company is also in negotiations to develop a hydrogen-powered locomotive for the movement of goods in the US, with plans to create a mono-fuel engine for the locomotive, using the "proven concept which can be duplicated", said Mr Saverys, though he conceded that the space required for the hydrogen fuel was one of the drawbacks of hydrogen.
"You need 1kg of hydrogen for the equivalent of 3.2 litres of diesel, so we need to compress the hydrogen," he explained.
However, the major drawback of hydrogen is the storage space necessary to deliver the equivalent energy when compared to diesel, making the fuel problematic for use in deepsea shipping for example, he admitted.
CMB has an alternative plan for long-distance shipping with a new €2bn green ammonia plant planned for construction in Namibia, southern Africa, that will produce fertiliser as well as marine fuel for CMB vessels, including six ice-class container ships, each of 6,000 teu on order from Qingdao Yangfan shipyard in China, for delivery in 2023 and 2024.
"We plan to use the MAN [ammonia powered] engines for these ships, but if MAN cannot deliver these engines in time, we will use a standard model and will retrofit the engines [to use ammonia] later," said Mr Saverys.
The company is confident that the changing mood within the logistics industry, as well as broader society, will mean that growing numbers of customers are interested in their goods being transported on assets powered by alternative fuels, and ammonia-powered vessels will find themselves with a "unique selling point.
"Big retailers are frustrated by the lack of progress [in reducing the shipping industry's carbon footprint]," he claimed.