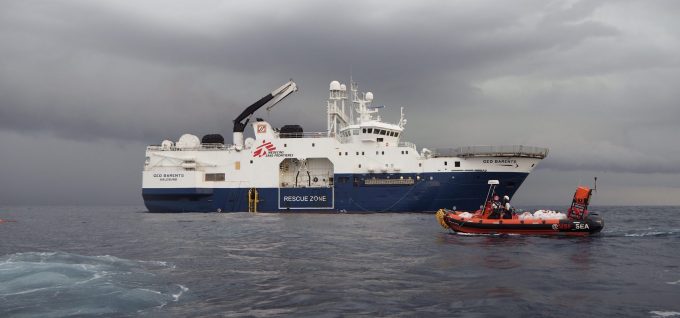 New legislation, an anti-migrant Italian government and fewer NGO ships could lead to a rise in the number of cargo vessels having to help save migrants at sea.
New Italian legislation passed in early January requires captains to request a 'port of safety' (PoS) immediately after a rescue – preventing the multiple rescues NGO vessels often undertake on each journey – with threats of hefty fines or vessels being impounded for non-compliance.
Within weeks of Italian prime minister Georgia Meloni taking power in October, the government stalled the disembarkation of more than 1,000 migrants, leaving them stuck for more than a week aboard the NGO vessels which had rescued them.
The stand-off left the Central Mediterranean route – the world's deadliest for migrants – with no NGO vessel coverage for several weeks.
Anabel Montes, search and rescue team leader on board the Geo Barents, a former seismic survey ship now chartered by Medecins Sans Frontieres as a rescue vessel, told The Loadstar this left a vacuum that cargo ships may be forced to fill, if instructed by maritime authorities, or if crews spot a migrant boat in distress.
"Deviation and delay linked to rescue will entail significant financial ramifications. Migrant rescue operations tend to be complex and costly, involving shipowner, charterer, cargo owners and insurers, at a minimum," noted a 2020 British Institute of International and Comparative Law report. "Stakeholders have reported losses of up to $500,000 arising out of a single migrant rescue causing the vessel to be delayed for one week."
Ms Montes said: "Cargo ships undertaking a rescue can be delayed for many days, so this could explain why merchant ships may be reluctant to stop because it costs a lot of money."
It's not just cost that could make captains think twice about undertaking a migrant rescue, despite obligations under international maritime laws. There are also practical and safety considerations. Modest-sized cargo vessel crews may struggle to support or even control frustrated migrants, which can number more than 100 people, often mostly young men, from just one overcrowded dinghy.
In 2020, the cargo ship MS Marina's 13 crew struggled to control 79 disgruntled temporary passengers, amongst whom a knife-fight broke out after the vessel waited so long for a safe port they ran out of fresh water.
Even warships avoid rescue involvement, with some apparently hanging banners across the side reading: 'Keep Away', to dissuade migrants from approaching. While containerships can offer more remote support, by sheltering a vulnerable boat from the elements, they may still have to wait many hours for the relevant coastguard to arrive and take over.
But ignoring requests for help could come at some legal risk for carriers. In 2018, a Spanish NGO launched legal action against the bulk carrier Triades and the Libyan coastguard for involuntary manslaughter. It claimed radio communications overheard by rescue vessel included the Triades informing the Libyan coastguard of a raft adrift and providing coordinates, without attempting rescue. Two people died before the boat was reached by the NGO.
Captains of merchant vessel sailing under an EU flag who return migrants to Libya may be particularly vulnerable to potential legal repercussions.
"Under the Refugee Convention of 1991, no-one can be returned to the borders of a country where his life or freedom could be threatened, so we firstly obey maritime law but then revert to refugee law," MSF's humanitarian affairs officer on the Geo Barents, Oscar Schaible, told The Loadstar.
"But cargo ships don't do this. Commercial ships have to fully comply with Libyan coast guard orders and return migrants to Libya if instructed. But it's legally ambiguous because, if it's an EU-flagged vessel, there's the potential that the captain could be sued."
For five years, European maritime force Operation Sophia, with multiple vessels patrolling the Mediterranean between Italy and Libya, took pressure off commercial ships. But this costly and controversial maritime force ceased operations in 2020. It was replaced by the far smaller Operation IRINI, which focused on implementing the UN arms embargo on Libya, training the Libyan coastguard, disrupting human trafficking and preventing illegal oil exports.
Mr Schaible pointed out that, since 2020, apart from official coastguard authorities, NGO rescue vessels and commercial ships are all that remain.
With Malta continuing to keep its ports largely closed to migrants and its coastguard seemingly inactive, Italy's moves to curb the work of NGO rescue vessels may leave merchant vessels again on the front lines of the Mediterranean migrant crisis.