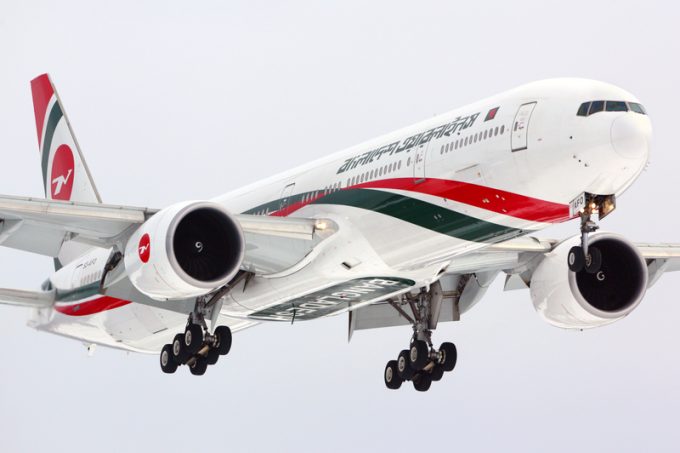 Bangladesh has found a new trade route, at a time when its export market is booming. 
Exports hit an all-time high of BDT279.82bn ($3.3bn) in July, the latest data available, showing a near-20% rise on June. 
As the world's second-biggest apparel exporter, after China, it is likely to have benefited from US tariffs on Chinese goods.  
From January, Biman Bangladesh Airlines will operate a thrice-weekly service between Manchester and Dhaka, using a 787, via the eastern Bangladeshi city of Sylhet on its return from the UK. 
Direct cargo-carrying flights between the UK and Bangladesh were reinstated last year after additional security measures were put in place. Biman, which is reportedly looking at launching freighter operations, also flies to London Heathrow. 
Despite the rise in exports, the country has struggled with its garment industry in recent months. Last month, Bangladesh Garment Manufacturers and Exporters Association president Dr Rubana Huq said the garment sector needed more support from the government. 
More than 25,000 jobs have been lost since February after 46 factory closures. Dr Huq laid the blame on cheap prices and urged exporters to convince customers to pay a better price, and to focus on those countries that do. She called for new markets to be explored "constantly".  
The association has also called on the port of Colombo to increase efficiency, as using the Sri Lankan port would cut lead times by nearly 10 days, reports JOC. Transhipment usually occurs at Singapore, a longer journey to both the US and Europe. 
And time is critical to Bangladeshi exporters. One US buyer refused to accept $2.6m worth of goods when a shipment failed to reach a port on time, the UK Daily Star reported last week. The exporters, despite shipping the goods as free on board, have been told they have to pay the freight charges for shipping the goods back to Bangladesh, as well as face a compensation claim from US retailer Kontoor Brands. 
The goods were shipped from Bangladesh in January, but a fire on board the ship, while not damaging the shipment delayed delivery by six months, missing the spring selling season. Kontoor claimed this breached its contract, which stipulates that the vendor bears all risk of loss of the goods until the goods reach the destination. It pointed out too that many of the exporters did not have insurance. 
However, Dr Ruq said the move was unfair.  
"The return of the goods to the shippers is definitely considered a breach of trust and against the fundamentals of ethical and responsible sourcing."