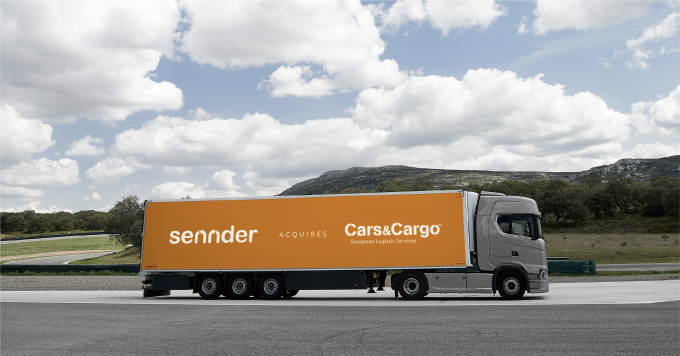 Sennder, the digital road freight forwarder which last year bought the European arm of Uber Freight, has now acquired Dutch forwarder Cars&Cargo.
Cars&Cargo operates in France and the Benelux and has 240 chartered vehicles, which will now be available on sennder's digital platform.
Sennder claimed customers would receive "significant capacity expansion" as a result.
The Dutch forwarder will continue to trade under its existing name in the near-term, while founder Bob Snijder will remain as managing director.
David Nothacker, sennder co-founder and chief executive, said: "Sennder has been on a remarkable growth journey, which has included several high-profile acquisitions. 2021 is all about expanding our offering to carriers and shippers alike – our acquisition of Cars&Cargo delivers on this objective."
Sennder said the two businesses had synergies, both connecting shippers to SME carriers.
The new deal follows sennder's partnerships with Michelin and Zeitfracht, acquisitions of Uber Freight Europe and Everoad and joint-venture with Poste Italiane. 
Sennder is not the only digital forwarder making waves today: Zencargo said this morning it had raised $41m in series B financing.
The company plans to "significantly grow its team", from 150 to 350, over the next two years and will also expand in the Netherlands, Hong Kong and the US.
Zencargo has so far raised some £42m ($59.4m}, while it is expecting revenues of £100m this year and double that in 2022.
In another UK deal, reverse logistics platform ReBOUND has been bought by Reconomy, a recycling and waste management company. ReBOUND will continue to operate under its own name, but will share tech, data and services across Reconomy.
The deals support research out this week showing that, in the UK at least, nearly half the logistics deals in the first quarter involved tech businesses.
Overall, activity in the UK logistics sector continued to follow an upward trend, as seen in Q420, with transaction volumes returning close to pre-pandemic levels.
The BDO report notes that the aggregate disclosed deal value for Q1 was £285m, with more than a quarter of them (27%) being cross-border. One-third of deals involved private equity-backed investment.