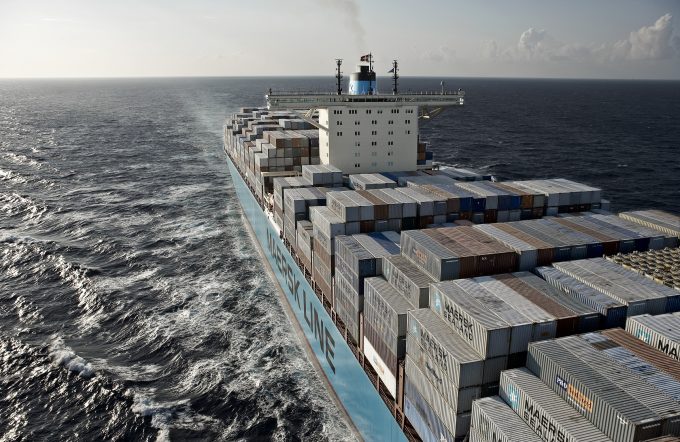 Maersk Line remained in the red in the third quarter, today reporting a net loss of $116m on the back of a 16% year-on-year decline in freight rates.
However, group chief executive Soren Skou argued that ahead of the annual Asia-Europe contract negotiations season, the carrier was "in a better position than this time last year", due to higher spot rates and shipper "flights to safety" following the Hanjin crash.
The container line loss compares with a profit of $264m in the same period last year, despite a volume growth of 11% to 5.4m teu.
It brings the carrier's nine-month loss to $230m and has forced a negative full-year result prediction.
Q3 revenues of $5.4bn were 11% lower than the same period last year, dragged down by a 16% plunge in average freight rates to $905 per teu – although freight rates improved 5.5% on the previous quarter, the first quarter-on-quarter increase since Q3 2014.
At the group's interim results presentation this morning, Mr Skou attributed Maersk's significantly above-par volume growth to a combination of increased loading on backhaul trades and new business gained after Hanjin Shipping entered receivership on 31 August.
"Maersk Line captured more than its fair share of Hanjin business," said Mr Skou, adding that the line was "probably seen as a safe place".
He added: "Hanjin had around 3% of the global market, so this was like a whole year of global growth coming onto the market overnight."
He said he anticipated that the "Hanjin effect" would have an impact on freight rates –  already in evidence on the spot market, which accounts for around 50% of Maersk Line's business – and was likely to influence Asia-Europe contract discussions and those for the transpacific trade next year.
"To my knowledge, we haven't closed any Asia-Europe contracts yet," said Mr Skou, suggesting that Maersk Line had the upper hand in those rate negotiations.
On the subject of capacity, Maersk Line is scheduled to take delivery of eleven 19,600 teu second-generation Triple-E vessels in 2017 and 2018. Mr Skou said the carrier had enough flexibility with its orderbook and charter fleet to adjust accordingly.
And he was not unduly concerned about the ability of rivals to charter ships at rock-bottom daily hire rates.
"Many carriers are significantly loss-making," he said. "Even a free charter is not cheap enough."
Lars Jensen, chief executive and partner at SeaIntelligence Consulting, described the 11% volume growth as a "show of force by Maersk Line".
He added: "Now we have to look out for counter moves by the new alliances in 2017/ Will they give up this market share to Maersk permanently, or will we enter a new phase of the price war?"
Meanwhile, APM Terminals delivered a profit of $131m in the quarter, compared with $175m in the same period last year, despite container throughput at its terminals increasing to 9.5m teu from 8.9m teu in the same period last year.
However, profitability at APM Terminals remains under pressure in Latin America, North Europe and Africa, due to liner network changes and continuing weak market conditions.
As a part of Maersk's strategy review, Mr Skou said, APM Terminals would in future focus on "a better result from existing business" rather than "putting new flags in the ground".
Forwarding arm Damco was hit by lower rates and currency exchange fluctuations, but nevertheless recorded a third-quarter profit of $15m, down from $20m last year.
Outgoing group chief financial officer Trond Westlie believes "the corner has been turned" at the 3PL.
Overall, the AP Møller Maersk group delivered profits of $438m in the quarter, compared with $778m in the same period of 2015, and expects a full-year result "significantly below" last year's $3.1bn, at "below $1bn".
APMM will hold its postponed Capital Markets Day in Copenhagen on 13 December. Mr Skou said more details would then be available about the restructuring of the group.