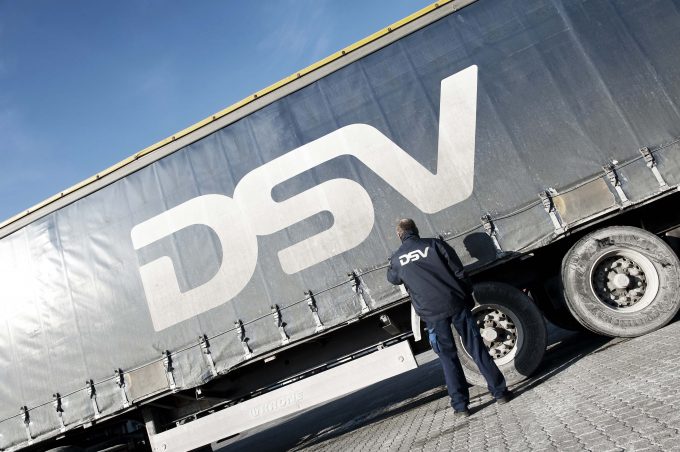 DSV's market value leaped 7% this morning after a first half described as its "best ever".
Market analysts are hailing the operator as one of the "top picks" in the European transport sector.
Overall revenue grew 13% for the six months to June, hitting Dkr38bn ($5.9bn) and in turn generating profits (ebit) of Dkr2.9bn, up 6% year on year.
Chief executive Jens Bjørn Andersen said: "Our financial results for Q2 are at an all-time high, and I am pleased to see that all business areas have performed well.
"DSV has good momentum and a strong foundation for further growth, and we upgrade our expectations for 2018."
Air and sea division profits surged 23.7% to Dkr1.8bn driven by particularly strong air freight activity, with volumes up 11%, more than twice the market rate.
Mr Andersen told investors the result had prompted the company to increase its full-year profit forecast to Dkr5.6bn.
"Our air freight activity has been noticeably strong, driven in large part by exports out of the American and EMEA markets," said Mr Andersen.
"Even with our air freight business outgrowing the market, we have not seen the negative effect on yields that would normally accompany this."
Results on sea freight were a little more muted, with volume growth of 4%, just above the market rate of 3%.
However, Mr Andersen said, with the Asia-Europe trade particularly sluggish, at 1% growth, DSV could be pleased with its performance given this lane is easily its biggest.
"With Asia-Europe growth being [minimal] it's not been all that good for us, but even so, overall air and sea have put behind them another very strong period," he added.
"The strength the market has seen in transpacific trade (up 6%) could be indicative of last-minute express services rushing to try and beat the tariffs."
On tariffs, Mr Andersen said it was "extremely difficult" to find positives, although he noted the company's exposure was not as big as others. Presently, some 10% of the volumes transported by DSV's air or sea division are between China and the US.
"We are pleased to see that tensions between the EU and the US have eased off and we don't foresee any problems on the Asia-Europe side – our biggest market," he continued.
"And if supply chains did decide to move out of China – for instance to Vietnam – we can help facilitate this as we are extremely agile."
In road freight, first half profits fell 12.7% to Dkr659m, although this was put down to a one-off first quarter 2017 gain, and transfer of 4PL activities from road to DSV Group.
Mr Andersen's focus was more on the 15.4% uptick in its road profit seen in the second quarter, and further gains in market share with volumes up 5% against market growth of 3-4%.
"Our continued strong top line growth has been driven by retail – including e-commerce and the automotive industry," he added.
"We're strong in automotive [which is coming under increasing trade tariff scrutiny]. We are growing in these other markets and seeing fewer failures implementing new customers."
The optimism surrounding the company led financial analyst Jeffries International to note DSV "continues to beat expectations" and is "well ahead" of its freight forwarding peers.
Equity analyst David Kerstens said 17% Q2 ebit compared "favourably" with Panalpina's 13% and Kuehne + Nagel's 2%, leading him to brand DSV a "top transport pick."
"[Its] shares have increased by 9% over the last three months, outperforming peers by 7%, and are trading at 18.5x FY 19E ev/ebit," noted Mr Kerstens. "[This implies] a 5% premium to the European freight forwarding sector, while enjoying the strongest earning momentum."
Looking forward, Mr Andersen said he had tasked his air and sea division to "go out and beat the market", adding that he was working under the assumption of 3-4% growth.
When asked about further activity in the mergers and acquisitions market, he said: "We are still extremely eager for more M&A activity and talk about it every day, as it is priority number one for our free cash flow."
"But at the same time, we don't want to rush and have to consider the limiting factor that, if potential acquisitions don't want to sell… there will be no transaction – but we are ready."