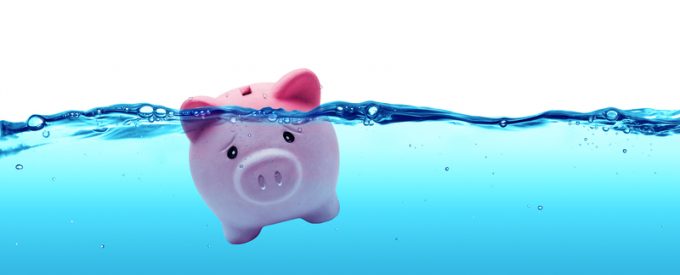 Leverage need not be a bad word? Well, maybe.
That is certainly true if you look at very short-term trends since the turn of the year for the secondary leveraged loan market in Europe, which are highlighted below.
However, longer-term trends are less meaningful at a time when it is hard to gauge the appetite for many risky assets from the 110 trading level of $/¥ exchange rate – the Japanese yen typically appreciates as a value reserve in the bad times. Meanwhile, other signs – shape and behaviour of yield curves, spreads, commodity swings, and VIX [volatility] trends – are difficult to decipher. 
So, could it be the supply chain providing vital clues as to what kind of risks could affect the real economy if things go really bad and the cycle turns south, and related transmission effects?
Look at some of the major T&L players that are looking to do deals – they are all involved or rumoured to be involved somehow – in order to offer a countercyclical corporate strategy to their investors.
3PLs
The street-smart and gutsy players, the asset-light 3PLs, are faced with all sorts of headwinds and, apart from DSV, to some extent, in terms of fundamentals, they are taking more financial risk onto their books likely to deliver only lower returns over time.
High on my radar, Swiss 3PLs Panalpina and Kuehne + Nagel, are a case in point: their combined gross debt in 2018, based on their annual results, skyrocketed to over Sfr500m from negligible debt positions in previous years, which is made worse by their cash flow productivity.
Both, in different ways, can blame working capital swings, and both, encouragingly, remain net cash, but in 2018 their combined adjusted pro-forma operating cash flow (essentially K+N's Sfr679m) wasn't not far off the amount of the new gross debt they raised, with PAN's adjusted operating cash flow very close to zero, if some IFRS adjustments are excluded from cash inflows considerations. Without external funding, hence new debt, the dividends of both would have likely been halved in 2018 – yet what they are doing is similarly exciting if you believe Panalpina + Kuehne + Nagel is the endgame in 3PL M&A arena (many sources still think it will be, if the shares of the former continue to weaken).
Meanwhile, DSV – which is still waiting to hear from Panalpina if its takeover offer is any good – is only mildly leveraged (2018 net leverage 0.75x, stable versus 2017), but its projected free cash flow in 2018 was well below 2017 levels, and working capital (WC, which concerns short-term liquidity management) was harder to manage in 2018, up to Dkr1.7bn from Dkr1.4bn one year earlier, on a net basis.
Moreover, Dkr250m of unexpected "extraordinary contributions" to the pension plan impacted cash flows in the fourth quarter.
(Incidentally, look at what credit rating agency Moody's said on the pension matter in regard to integrated transport and logistics company UPS)
Notably, DSV's gross cash fell by $28m while debts rose by $38m in 2018 – it spent well over half a billion dollars in buybacks, with its stock down over 10% for the year – but net leverage was unchanged as it worked hard to preserve earnings productivity, which is not going to do the trick forever. At least, not in this market.
The ocean freight trade has not healed yet after a difficult 2017, while air freight is slowing and contract logistics is the mixed bag it has always been, but one necessary to tie in shippers and secure new ancillary business.
In all this, the freight forwarding activities of behemoths DB Schenker and DP-DHL are ok-ish, based on the numbers I sighted, but the debts of their parent companies are not, so they might be used to offload financial trouble upstream.
Across the Atlantic, still focusing on the top 20 in the FF rankings by volumes/revenues, the strong 2018 operating performances of 3PLs Expeditors and CH Robinson – similarly solid but radically different in terms of business lines – did not hide the simple fact that both must thank the taxman and large buybacks, which propelled their earnings per share.
More broadly, in Europe at least, it looks as if the 3PLs are trying to beat the ocean carriers at their own game without owning meaningful assets that can be collateralised to raise more debt, which doesn't sound very smart because it probably isn't – unless, that is, we assume that M&A is a radical game changer, and will actually help all the parties involved (half a dozen 3PLs are rumoured to be gauging their options) after two months of talks and little real action.
Then, enter the carriers.
Mixed signs 
Maersk is trying to de-lever and its effort has been remarkable, but essentially it has pushed the problem elsewhere – look at the balance sheet of Maersk Drilling and other entities it got rid of.
Meanwhile its rival MSC – as I have reported for Premium in the past quarter – is busy launching new services with its partners and bailing out some of its clients in the freight forwarding arena, to make sure the credit that is due is finally collected, mostly in the form of equity in some of the companies it deals with when there are no other viable solutions.
Elsewhere, COSCO Shipping's balance sheet is opaque at best and sound at least (see page 18), as state-owned debts are there to be rolled over whenever needed, which is a distinct competitive advantage.
CEVA Logistics de-levered via its IPO and, as argued in my analysis last week, it could well boost its owner CMA CGM's deleveraging story if coveted targets are achieved. But CMA CGM also needs cost-cutting to allow it to stick to newly agreed debt covenants, and while end-to-end solutions are great, execution risk has seriously grown as it rejigs its asset portfolio looking to close the revenues gap with Maersk and its larger rivals.
As a side, Hapag's preliminary update confirmed it is the outlier, and its debt/leverage will not be meaningful only if its targets are met by 2023 – hard to believe it will still be around as an independent carrier by then, but its managers arguably are doing a very good job with the help of their bankers.