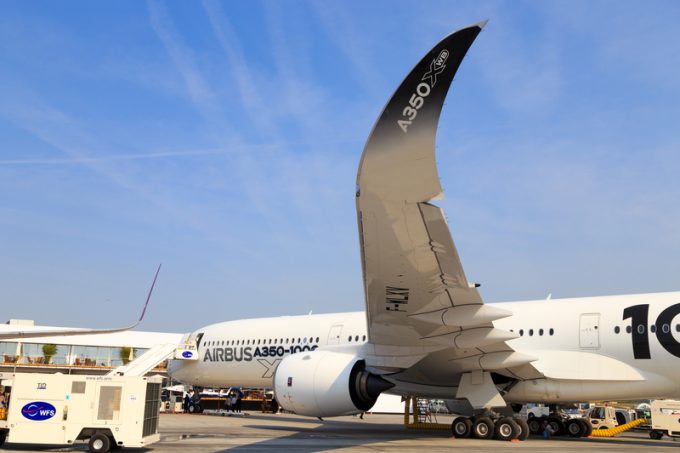 Boeing has, almost uncontested, ruled the world of widebody freighters in recent years, but rival Airbus is finally stepping up.
And this is happening at a time when Boeing is at something of a disadvantage.
New CORSIA environmental rules mean that aircraft not meeting new standards can no longer be produced from 2028 – likely to impact manufacture of 777-300 and 767-200 freighters, according to one aircraft insider.
Boeing is, instead, planning a 777X freighter, but this remains at the discussion phase, following an expression of interest from Qatar Airways.
But it leaves a gap in the market – and Airbus is keen to step in.
Chief executive Guillaume Faury said, at last week's financial results announcement, Boeing had enjoyed "almost exclusivity" in the "important" widebody freighter segment and Airbus was watching "carefully".
He added: "We don't like the idea that we are not active in that segment."
Mr Faury said Airbus was examining the market potential and that the A350 would be a strong candidate for a "good freighter version". But he also said, rather cryptically, "the decision is made that there is no decision".
However, one source close to freighter airlines said Airbus was already touting the A350-1000 variant as a freighter at a price of $170m ("not a bad price," commented the source), potentially from 2025, at least two years before Boeing's proposed new offering.
"There is a good chance that combination airlines already operating the A350 will be interested, such as Cathay Pacific and Lufthansa," added the source. "There is not enough lift to meet demand, and airplanes keep retiring and so on. The market will be tight and Airbus has seen an opportunity."
He said there would be "a lot of engineering work to be done" on the A350-1000F – "Airbus will need some orders first."
The news follows Airbus's latest attempt to capture some of the current zeitgeist of cargo-only passenger aircraft. Last week, Airbus and Lufthansa Technik signed a cooperation agreement to develop temporary cabin solutions for A330s, said to be the second-best aircraft type for cargo-only operations.
Lufthansa Technik will own the Supplemental Type Certificate (STC), which will enable operators to load cargo into the cabins of their A330-200 and A330-300 aircraft. Lufthansa will provide modification kits, Airbus technical data, engineering validations and operational calculations. The solution will see the seats removed for standard PKC pallets and nets.
This solution offers cargo capacity of about 78 cu metres on the main deck of an A330-200, with 12 PKC pallet positions and 18 nets, while the A330-300's main deck cargo capacity will be around 86 cu metres, with 15 PKC pallet positions and 19 nets.
"In these times of reduced passenger traffic, our customers are looking for quick solutions to temporarily increase cargo transport capacity in the cabin," said Daniel Wenninger, head of airframe services at Airbus.
Meanwhile, ACMI specialist SmartLynx said yesterday the A321 conversion programme led to lower fuel and operational costs than Boeing's rival, the 757. SmartLynx has two aircraft which have been converted, with another eight planned.
"There are many advantages to the Airbus A321 aircraft, especially in the freight field," said CEO Zygimantas Surintas. "The A321 aircraft's fuel burn is the lowest in class – a massive 20% lower than the 757 – and the direct operational costs are significantly lower. These are key numbers that allow companies save substantial amounts."
In other aircraft news, Lufthansa Cargo said this morning it was equipping all its 777 freighters with a new surface film that emulates a shark's skin, in a bid to lower fuel consumption. The 'skin' will reduce aerodynamic drag and will cut 11,700 tonnes of CO2 emissions across the 10-strong fleet.