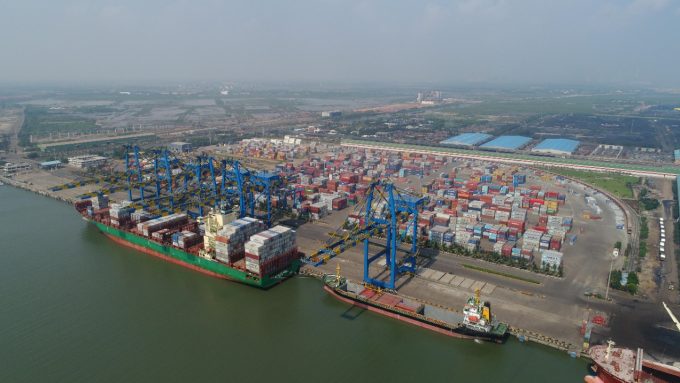 Adani Group, India's port logistics market leader, is fighting hard to regain investor faith, after its bullish growth outlook was badly shaken by allegations of improper behaviour.
The controversy has its roots in adverse disclosures by US-based stock short-seller Hindenburg Research, which accused the Indian conglomerate of stock manipulations, raising concerns about Adani's high debt exposure and overvaluations.
Hindenburg, in its 24 January report, also alleged improper use of offshore tax havens by the Adani promoters.
The scathing allegations sent shock waves through India's equity markets.
While Adani quickly denied what it called "baseless and unsubstantiated speculation", but its stock crashed, with losses of more than $100bn in a week, according to market analysts.
Adani told the stock exchange: "The document is a malicious combination of selective misinformation and concealed facts, relating to baseless and discredited allegations to drive an ulterior motive."
Moreover Adani said the short-seller's report was "rife with conflict of interest and intended only to create a false market in securities to enable Hindenburg, an admitted short-seller, to book massive financial gain through wrongful means at the cost of countless investors".
Besides port infrastructure development and related logistics solutions, Adani has significant interests in airports, mines, data centres, power generation and power transmission in India.
The group, under subsidiary Adani Ports and Special Economic Zone (APSEZ), has been on a strategic investment spree to expand its logistics footprint at home and abroad in recent years, Even the pandemic disruption had little cooling effect on its growth push.
As a result, APSEZ has swelled its port network reach to 13 locations in India and market share to new levels, in some parts at the expense of volumes traditionally moving via government landlord ports, commonly known as major ports.
A $1.2bn deal to secure long-term concession rights at Israel's Haifa port, concluded a week ago, boosted its overseas expansion ambitions.
But industry observers believe the current negative sentiment could force Adani to soft-pedal its growth aspirations, at least in the near term.
"The issue has inevitably sparked some regulatory scrutiny and the outcome will be critical for the group," a Mumbai-based logistics industry observer told The Loadstar. "As capital markets have an undeniable bearing on the economy, there are naturally political ramifications."
Adani, which has ambitions to be the world's top port operator by 2030, has several more port projects in the works, including a $2bn deepwater, green field project at Tajpur in West Bengal, and it remains to be seen how these will be impacted.
Additionally, a container transhipment hub project at Vizhinjam, a green field site about 10 miles south-west of Trivandrum in southern India, is nearing rescheduled commissioning of the first phase, after work stalled because of protests from the local fishing community.
Looking ahead, APSEZ also has plans to step up rail investments, amid a growing government focus on intermodal logistics development, to speed up cargo flows and alleviate road congestion.
APSEZ reported a 13% year-on-year decline in its Q3 consolidated profits, even as cargo volumes and handling capacity moved up. The company noted that its net earnings were impacted by a higher forex loss. It said: "APSEZ's net debt to ebitda ratio is well within our guided range of 3x to 3.5x, while our gearing ratio is below one.
"The performance across various debt covenants has been better than the desired levels, and our internal accruals enable us to meet the scheduled debt repayment for any of the financial years without any major challenges," it added.
You can contact the writer at [email protected]